ABOUT TICKETS
IN-PERSON ATTENDANCE
Pre-concert sales for in-person attendance will be sold online from this website for $20. Tickets will be sold at the door for $22 (cash or check only) until maximum capacity has been reach; then tickets sales will close.

The in-person audience for a concert will be limited to 80 persons maximum. Once that maximum has been reached, all in-person ticket sales will be closed. All online ticket sales must be purchased no later than noon of the day of the concert.

Persons under eighteen years of age may attend for free, but they will also need a ticket; if you would like a youth ticket, please follow the directions that will be included in your ticket confirmation email and respond within 24 hours after receiving it. Youth tickets will be counted and applied to the in-house maximum attendance.
ONLINE LIVE STREAMING
This concert will also be live streamed on our Happy Hour YouTube channel. The stream will be available at the time of the concert. A recording of the concert will be available for a month following the concert, using the same access link.

Cost of access to the live stream is $12 per viewing site. To purchase a live stream ticket, select <Streaming access> in the drop-down menu and then click the <Buy Now> button. Only one ticket is needed per viewing site. Online tickets must be purchased before noon the day of the concert.
BUY YOUR TICKETS HERE
By purchasing a ticket you agree to let us send you emails via MailChimp, so that we can share important concert notices and news about future offerings.
To purchase a ticket, please scroll down to the concert you wish to attend and use the drop-down menu to select whether you want to purchase <In-person> or <Streaming access> tickets. Click the <Buy Now> button, and then select the number of tickets you want and your method of payment. Please remember you only need to purchase one streaming access per viewing site. Within 24 hours after making your purchase you should receive a ticket confirmation email from Happy Hour Chamber Concerts. Please click here to contact us if you have problems or questions.

GOLDEN VIOLS WITH
SARAH MOYER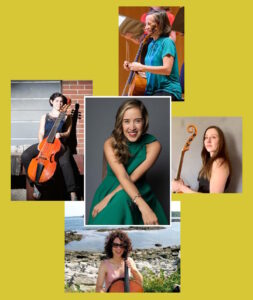 Friday, October 6
6:00 pm MDT


GOLDEN VIOLS with SARAH MOYER


Zoe Weiss,
Sarah Biber,
Sarah Graf,
and Hannah Robbins
Friday, October 27
6:00 pm MDT


CADMUS

Amanda Balestrieri, Brune Macary,
Ann Marie Morgan,
Wesley Leffingwell

"From Sorcery to Enchantment"

Friday, October 21
6:00 pm MST


COLORADO CHAMBER PLAYERS


Paul Primus,
Brune Macary, Barbara Hamilton,
Karl Reque,
Sarah Biber

"Pizzazz"
Friday, January 19, 2024
6:00 pm MST

ANN MARIE MORGAN AND FRIENDS
Ann Marie Morgan,
John Murgel,
Louis Saxton

"Music for a While"
Works by J.S. Bach and Henry Purcell Reimagined

Friday, March 8
6:00 pm MST

CARPENTER AND BARNHART
Jennifer Carpeneter and Keith Barnhart


"La Stravagante"
The Italian-Spanish Connection

Friday, May 3
6:00 pm MDT

MUSICKE'S CORDES
Samuel Breene, Jeffrey Noonan, Sarah Biber

"Un tas de cordes"
Baroque String Music from the French Court