Start the weekend right with great music in a relaxed setting
Welcome to our twelfth season!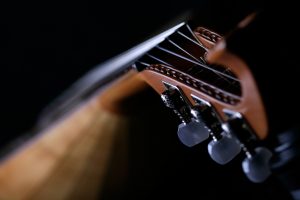 Whether you are new to our series or a familiar face, we hope you will join us for our spectacular line-up of concerts for this season. We offer live performance and online streaming of Early Music. If you join us in-person, you'll get to experience the wonderful intimacy of our performance space at Epiphany Lutheran Church in Denver. We offer complimentary wine, beverages, and snacks that create a relaxing place to enjoy beautiful music. Be sure to subscribe to our mailing list (click here) if you're not already on it. That way you will have all the latest news about upcoming concerts.
FRIDAY, OCTOBER 6, 6:00 PM MDT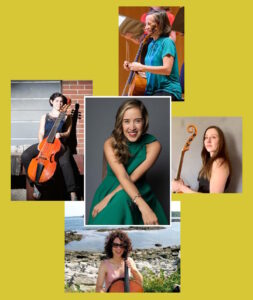 Golden Viols
with Sarah Moyer
Come celebrate Lamont School of Music's Zoe Weiss and renowned singer Sarah Moyer's debut on our Happy Hour Concert Series. They are joined by friends Hannah Robbins, Sarah Biber, and Sarah Graf—sounding a harmonious triad of Sarahs. Centered in the repertoire of the Elizabethan era, the ensemble the "Golden Viols" (a nod to their rehearsal location in that western suburb of Denver), bring you a selection of consort songs and instrumental works from England and the Continent including William Byrd, widely considered one of the greatest composers of the Renaissance.
The Performers
Sarah Moyer, soprano
Zoe Weiss, treble viol
Sarah Biber, tenor viol
Sarah Graf, bass viol
Hannah Robbins, bass viol
Please click on a name above to learn more about the artist. And you can click here to purchase tickets; tickets information will tell you how to go about making your purchase.

Advanced ticket sales close this Friday at noon!
Program
Prelude and Voluntary – William Byrd (1538-1623)
An English Set

"Come Again, Sweet Love" – John Dowland (c. 1563-1626)
Fantasia a 4, #1 – Byrd
"Cuckoo" – Anon.
"This Merry Pleasant Spring" – Anon.
The King's Pavyn – Anon.
"When Daphne from Fair Phoebus Did Fly" – Anon.
A "Susanna" Set

"Susanne Ung Jour" – Orlande de Lassus (1532-1594)
Canzon sopra Susanne – Attrib. Ippolito Tartaglino (early 17th C.)
"Susanne ung jour" – Jan Pieterszoon Sweelinck (1562-1621)
Farewell

Pavan and Galliard in B-flat – Byrd

"Farewell the Bliss" – Anon.
"La Doune Cella" – Anon.
"Joan Quoth John" – Richard Nicholson (1563-1639)
Fantasia a 4, #2 – Byrd
"Now, Oh Now, I Needs Must Part" – Dowland
FRIDAY, OCTOBER 27, 6:00 PM MDT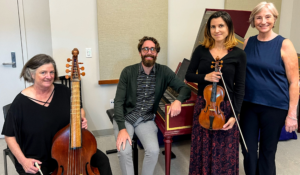 Cadmus
"From Sorcery to Enchantment"

For our second offering this season, Cadmus presents a concert of drama and delight. Wesley Leffingwell selected this program for his DMA recital at CU Boulder. It encapsulates many of the roles that a continuo player inhabits—from solo accompaniment, to recitative and ensemble playing. You'll be sure to enjoy this lush celebration of musical virtuosity!

The Performers
Amanda Balestrieri, soprano
Brune Macary, Baroque violin
Ann Marie Morgan, viola da gamba
Wesley Leffingwell, harpsichord
Please click on a name above to learn more about the artist. And you can click here to purchase tickets; tickets information will tell you how to go about making your purchase.

Program
Sonata in G minor, no. 48 from Concerti Ecclesiastici (1610) – Giovanni Paolo Cima (1570-1630)
"Romanesca" (1620) – Biagio Marini (1594-1663)
"Médée" from Cantates françoises, Book 1 (1710) – Louis-Nicolas Clérambault (1667-1749)

Sonata for Violin, Viola da Gamba, and Harpsichord in D major, no. 8, op. 2 – Jean-Marie Leclair (1697-1764)

Two songs from "Nine German Arias" – Georg Friedrich Händel (1685-1759)
"Süße Stille, sanfte Quelle" (HWV 205)
"Flammende Rose, Zierde der Erden" (HWV 210)

Our third concert of the season…
FRIDAY, NOVEMBER 10, 6:00 PM MST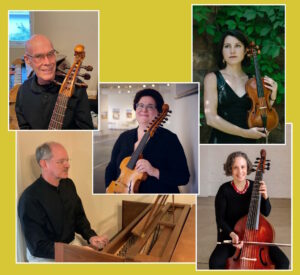 Colorado
Chamber Players

"Pizzazz!"

Pizzazz! A virtuosic display of baroque fireworks awaits in a program of music by J.S. Bach, Antonio Vivaldi, Antoine Forqueray, and Louis-Toussaint Milandre. The days may be getting shorter, but this is a concert that will light up your autumn evening and fill it with…you've got it!…Pizzazz!

The Performers
Paul Primus, harpsichord and violin
Brune Macary, violin
Barbara Hamilton, viola d'amore and violin
Karl Reque, viola and viola da gamba
Sarah Biber, viola da gamba and cello
Please click on a name above to learn more about the artist.
Tickets go on sale October 9.
Program
Trio no. 1, Viola d'Amore, Violin, and Continuo in D major – Louis-Toissaint Milandre (floruit c. 1756-c. 1776)
Concerto for Viola d'Amore and Strings in D minor, RV 395 – Antonio Vivaldi (1678-1741)
Concerto for Violin and Strings in B-flat major, RV 383 La Stravaganza – Vivaldi

Pieces de viole – Antoine Forqueray (1672-1745)

Concerto for Harpsichord and Strings an A major, BWV 1055 – Johann Sebastian Bach (1685-1750)

We hope we'll see you at one of our concerts—in person or online. You can click here to see a line-up of all of our concerts for this season
What people are saying
"The epitome of Baroque!"
"It's the perfect way to start a weekend! We get beautiful music, and there's plenty of time for dinner afterwards."
"For no-stress, pure enjoyment of chamber music, I recommend Happy Hour Chamber Concerts – cozy setting and skilled musicians, topped off with a glass of wine!"
"I feel lucky every time I am able to attend one of these wonderful concerts in this lovely church venue."
"Delightful music and perfect atmosphere, including the 'happy hour' wine!"