Start the weekend right with great music in a relaxed setting
Happy Hours are here again!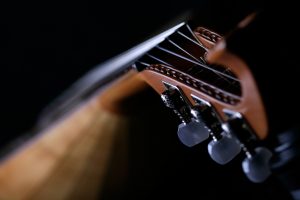 We are busy getting ready for our eleventh season, and we are happy to report that we plan to put the "happy" back in Happy Hour Chamber Concerts again. We intend to offer wine and snacks at our concerts, and we are increasing our maximum seating capacity to 80 persons. We will continue to offer on-line ticket sales through PayPal for $20, and we will also offer at-the-door ticket purchases for $22. However, all sales will close if and when we reach our maximum capacity, so the only way you can be sure of having a guaranteed seat is if you purchase your tickets before the concert date. Facial masking will be at your discretion, and there will be no checking for COVID vaccination status. We will continue to offer live-streaming of our concerts for $10. Of course, our policies and protocols may change in light of shifts in the pandemic, and we'll let you know if that's the case. Our chief goal is to keep our audience and artists safe so that we can continue to bring you the music you love. We are excited about the artists who have already agreed to be part of our season, and we hope that you will be able to join us for wonderful music in a great setting.
Our next concert….
FRIDAY, SEPTEMBER 9, 6:00 PM MDT
Rescheduled from January 7, 2022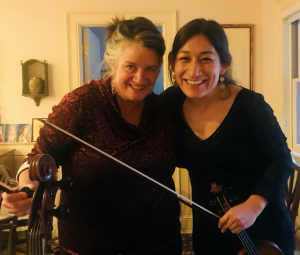 ANN MARIE MORGAN
and HARUMI RHODES
"Interlude"
We begin our eleventh season with an opportunity to hear a concert we needed to postpone during the pandemic. Ann Marie Morgan and Harumi Rhodes offer us a wonderful treat in a concert featuring music from 17th century Italy, several of Bach's Goldberg Variations, and a composition for scordatura viol and voice brought to life during the pandemic. We hope you will join us for this splendid concert, inaugurating another wonderful year of great music!
To purchase tickets for this concert, click here.
Performers
Ann Marie Morgan, viola da gamba and voice
Harumi Rhodes , violin

To learn more about a performer, please click on her name above.
Program
Celeste Giglio – Fabrizio Caroso (1526/31 – 1605)
Sinfonia for treble and bass instruments – Alessandro Stradella (1643 – 1682)
Tutti senza titolo
Allegro
Dialogue
Gigue
Dialogue
Allegro
Meditation on the Mandorla for scordatura viol and voice – Ann Marie Morgan (1960 – )
From The Goldberg Variations (BWV 998) – Johann Sebastian Bach (1685 – 1750)
Opening Aria
Variation 27 Canone all Nona
Variation 25 adagio
Variation 7 al tempo di Giga
Sonata prima a Soprano solo – Dario Castello (1602 – 1631)
Allegro / Presto / Allegro
Adagio
Allegro
Allegro
Adagio

And then….
FRIDAY, SEPTEMBER 23, 6:00 PM MDT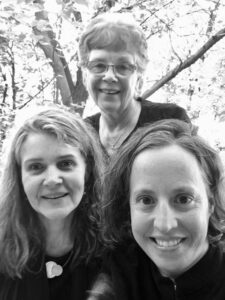 SEVERAL FRIENDS
Linda Lunbeck, Elena Mathys, and Sarah Biber
"Fairest Isle"
Gems from Baroque England

Several Friends – Sarah Biber, Linda Lunbeck, and Elena Mathys – perform Henry Purcell's famous aria, "Fairest Isle," written for the semi-opera King Arthur, which recounts the battles between the Britons and the Saxons. The song is a celebration of the Britons, their homeland, and their victory over the Saxons, beginning, "Fairest Isle, all isles excelling…." In this program, Several Friends celebrates composers of Baroque England: Matthew Locke, Thomas Lupo, Henry Purcell, Andrew Parcham, Tobias Hume, and G.F. Händel, spanning the Elizabethan era through the tumult and splendor of the Restoration.
You can learn more about Linda Lunbeck (recorder), Sarah Biber (viola da gamba), and Elena Mathys (harpsichord) by clicking on their names here.
Tickets will go an sale around August 23.
Program
"Fairest Isle," from King Arthur – Henry Purcell (1659-1695)
Suite No. 8 in D minor, from For Severall Friends – Matthew Locke (1621/22-1677)
Pavan
Ayre
Courante
Sarabande
Pavan
Sonata No. 5 in Bb Major HWV 377 (1725) – George Frideric Handel (1685-1759)
(Allegro)
Adagio
Allegro
Love's Farewell, from Captain Humes Musicall Humors (1605) – Tobias Hume (1569-1645)
Ground in C minor, ZD 221, from Cambridge MS Mus 653 – Purcell (possibly William Croft 1678-1727)
Fantasia a 3 [D minor] for 3 Bass Instruments – Thomas Lupo (the elder) (1571-1628)
Solo [G major], from 40 Airs Angloise & Trois Sonates – Andrew Parcham (flourished c. 1700)
Poco Allegro
Adagio
Allegro – Adagio – Presto -Adagio – Spicato – Largo – Allegro
Aria
Sonata No. 1 in G minor HWV 360 (1725-26) – George Frideric Handel (1685-1759)
Larghetto
Andante
Adagio
The rest of the season….
FRIDAY, OCTOBER 21, 6:00 PM MST

COLORADO CHAMBER PLAYERS
"Twilight Zone"
A delightful Halloween "Spooktacular"!
FRIDAY, DECEMBER 9, 6:00 PM MST

KEITH BARNHART
Early Music for the holidays, to brighten the season.
FRIDAY, APRIL 21, 6:00 PM MDT

BRAVO CELLO
Carole Whitney, Sarah Biber,
Heidi Mausbach, and Dianne Betkowski
Be sure to subscribe to our mailing list (click here) so you can have all the latest news about next season. Have a great summer – we'll see you soon!
What people are saying
"That was a wonderful concert – it seems the perfect format too. The timing was great too – we were able to go out after the concert, instead of having to rush through a dinner to make it in time"
"We find these concerts to be such a treat. They seem to help launch a few days of ease. The music is always first class and very engaging."