Here are highlights from our current season
CONCERT VIDEOS
AVAILABLE FOR VIEWING
PARISH HOUSE BAROQUE
September 25, 2020
Video archive
Happy Hour Chamber Concert is pursuing its mission of supporting our Early Music artists during this fiscally challenging pandemic time. Many of our artists have given us permission to continue offering their concert videos in archive. We ask you, please, to purchase as many admissions as there will be persons 18 years of age or older watching the concert. Once your PayPal transaction is completed, scroll to the bottom of the page and click the <Return to Merchant> button and your browser will be directed to the video. You may copy the URL address of the video and come back to view it as many times as you like while the video is archived. However, we ask you please to refrain from sharing the link with others who have not paid for access. You can click here to see our Online Guide, as well as to access FAQs that will help you enhance your viewing and listening experience. Thank you for supporting Happy Hour Chamber Concerts and our wonderful musicians!
December 4, 2020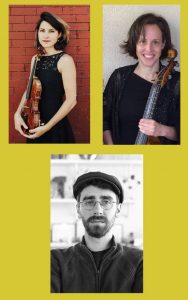 ROCKY MOUNTAIN CONSORT
Perspectives of Antiquity

What's new? What's old? It all depends…. At one time, all Early Music was "contemporary music," and within the Baroque universe, some earlier composers influenced those who came after them. Rocky Mountain Consort delights our ears and our imaginations, inviting us to discover the wonderful energy and evolution of the unfolding Early Music project. It's an exploration of Perspectives of Antiquity, and a reminder that beautiful music continues to charm us, no matter how old it may be.
Click here to download a printable program. To learn more about a performer, click on that person's name immediately below.
Rocky Mountain Consort
Brune Macary – baroque violin
Sarah Biber – viola da gamba
Wesley Leffingwell – harpsichord

Program
Sonnerie de Saint Geneviève du Mont de Paris – Marin Marais (1656 – 1728)
Suite in C compiled from Piece de Clavecin – Louis Couperin (1626 – 1661)
Prelude
Le Moutier, Allemande de Mr. de Chambonnières
Double du Moutier par Mr. Couperin
Passacaille
Pièces de clavecin qui peuvent se jouer sur le violon No. 1 in D Minor – Élizabeth-Claude Jacquet de Le Guerre (1665 – 1729)
No marking
Presto
Aria
Presto
Fantasie pour la basse de violle – Georg Philipp Telemann (1681 – 1767)
Fantasia, FbWV 206 – Johann Jakob Froberger (1616 – 1667)
Pièce de clavecin en concert No. 4 in B-flat Major – Jean-Philippe Rameau (1683 – 1764)
La Pantomime
L'Indiscrète
La Rameau
October 23, 2020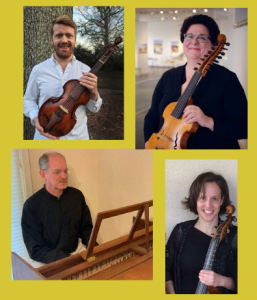 COLORADO CHAMBER PLAYERS
Beguiling Enchantment

Colorado Chamber Players return to Happy Hour with a program featuring music played on the beguiling viola d'amore. The concert is preceded by a wonderful, short pre-concert lecture to introduce you to this amazing instrument. The composers' lives span from the sixteenth to nineteenth century and demonstrate the enduring power of this instrument to evoke deep human resonance. Sarah Biber and Paul Primus bring wonderful artistry for the continuo, and Sarah's solo by Tobias Hume is stunning. To learn more about a performer, click on a name below. And you can click here to download a printable copy of the program.
Colorado Chamber Players
Barbara Hamilton and Daniel Urbanowicz, violas d'amore
Sarah Biber, viola da gamba and baroque cello
Paul Primus, harpsichord
Program
Partita in A major for viola d'amore and continuo – Christian Pezold (1677-1733)
Intrada
Allemande
Courante
Sarabande
Menuet I
Aria
Gavott
Bourée
Rondeau
Menuet II
Gigue
Galanterie #21, solo viola d'amore – Josef Fuchs (late 18th – early 19th centuries)
Tablature solo Viola da Gamba: Love's Farewell – Tobias Hume (1569 – 1645)
Ah, que l'amore , solo viola d'amore – Louis-Toussaint Milandre (c 1756 – c 1776)
Overture for 2 Violas d'amore and continuo – Wilhelm Ganspekch (1691 – 1770)
Overture-Presto-Passepied
Gavotte
Menuet
Bourée
Hornpipe
Gigue
Chaconne

September 25, 2020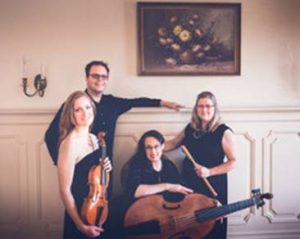 PARISH HOUSE BAROQUE
Baroque Sojourns

This concert invites us into a delightful journey through baroque treasures from familiar composers and, perhaps, some new musical friends. To learn more about Parish House Baroque, click here. You can click here to download a printable copy of the program.
Parish House Baroque
Elisa Wicks, baroque violin
Jennifer Carpenter, recorders
Pamela Chaddon, baroque cello
Eric Wicks, harpsichord
Program
Folias echo para mi Señora Doña Tarolilla de Carallenos (1650) – Andrea Falconieri (1585 – 1656)
Sonate, correnti et arie, Op. 4: Sonata No. 26, "La Prosperina"- Marco Uccellini (1603/1610 – 1680)

Violin Sonata in A major, Op.5 No.9 – Arcangelo Corelli (1653 – 1713)
Preludio. Largo
Giga. Allegro
Adagio
Tempo di Gavotta. Allegro
Trio Sonata in C major, QV 2:Anh.3 – Johann Joachim Quantz (1697 – 1773)
Affettuoso
Alla breve
Larghetto
Vivace
Trio Sonata for treble recorder, violin and continuo in D minor, TWV42:d10 – Pierre Prowo (1697 – 1757), also attributed to Georg Philipp Telemann (1681 – 1767)
Allegro
Adagio
Allegro
Presto
Click below to look at performances from our previous seasons