Here are highlights from our current season
October 21, 2022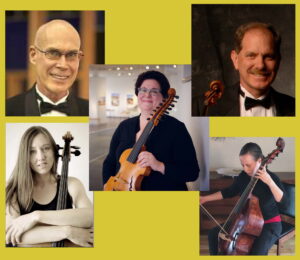 COLORADO CHAMBER PLAYERS


Barbara Hamilton, Paul Primus, Sarah Biber, Sarah Graf, and Karl Reque



"Twilight Zone"
Colorado Chamber Players return to live performance at Happy Hour Chamber Concerts with a wonderful Halloween treat! A delightfully haunted evening awaits, with strange and supernatural music of the Baroque era, by Marin Marais, Anthony Holborne, Henry Purcell, from the Gottweig Archive, and Giuseppe Tartini. Actor Chris Kendall will read short poems about the supernatural by Emily Dickinson, Robert Herrick, Moya Cannon, and William Shakespeare.
The Performers
Barbara Hamilton, Viola d'amore, Baroque violin
Paul Primus, Baroque violin and Harpsichord
Sarah Biber, Viola da gamba
Sarah Graf, Viola da gamba
Karl Reque, Baroque viola, Viola da gamba
You can click above on the name of a performer to see biography information.
You can view and download a copy of the program by clicking on the link.
Program
The Night Watch, mixed consort – Antony Holborne (1545-1602)
Suite #19 from the Gottweig archive, Viola d'amore and continuo – probably by Heinrich Biber (1644-1704)

Four part Fantasia in E Minor for broken consort – Henry Purcell (1659-1695)

Tableau de l'Opération de la Taille ("Description of a Bladder Surgery") – Marin Marais (1656-1728)

The Funeralls, mixed consort – Holborne

Devil's Trill sonata (1713), arr. for violin and ensemble – Giuseppe Tartini (1692-1770)
September 23, 2022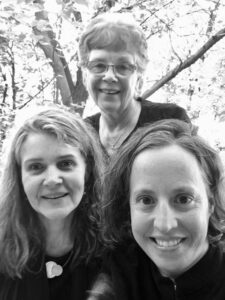 SEVERAL FRIENDS


Linda Lunbeck, Elena Mathys, and Sarah Biber



"Fairest Isle"
Several Friends – Sarah Biber, Linda Lunbeck, and Elena Mathys – perform Henry Purcell's famous aria, "Fairest Isle," written for the semi-opera King Arthur, which recounts the battles between the Britons and the Saxons. The song is a celebration of the Britons, their homeland, and their victory over the Saxons, beginning, "Fairest Isle, all isles excelling…." In this program, Several Friends celebrates composers of Baroque England: Matthew Locke, Thomas Lupo, Henry Purcell, Andrew Parcham, Tobias Hume, and G.F. Händel, spanning the Elizabethan era through the tumult and splendor of the Restoration.
You can learn more about Linda Lunbeck (recorder), Sarah Biber (viola da gamba), and Elena Mathys (harpsichord) by clicking on their names here.
You can view and download a copy of the program by clicking on the link.
Program
"Fairest Isle," from King Arthur – Henry Purcell (1659-1695)
Suite No. 8 in D Minor, from For Severall Friends – Matthew Locke (1621/22-1677)
Pavan
Ayre
Courante
Sarabande
Pavan
Sonata No. 5 in B-flat Major HWV 377 (1725) – George Frideric Handel (1685-1759)
(Allegro)
Adagio
Allegro
Love's Farewell, from Captain Humes Musicall Humors (1605) – Tobias Hume (1569-1645)
Ground in C Minor, ZD 221, from Cambridge MS Mus 653 – Purcell (possibly William Croft 1678-1727)
Fantasia a 3 [D Minor] for 3 Bass Viols – Thomas Lupo (the elder) (1571-1628)
Solo [G Major], from 40 Airs Angloise & Trois Sonates – Andrew Parcham (flourished c. 1700)
Poco Allegro
Adagio
Allegro – Adagio – Presto – Adagio – Spicato – Largo – Allegro

Sonata No. 1 in G Minor HWV 360 (1725-26) – Handel
Larghetto
Andante
Adagio
September 9, 2022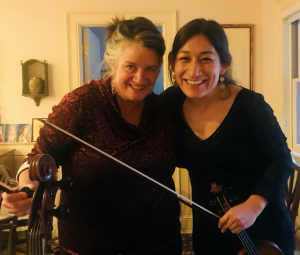 ANN MARIE MORGAN and HARUMI RHODES
"Interlude"
We begin our eleventh season with an opportunity to hear a concert we needed to postpone during the pandemic. Ann Marie Morgan and Harumi Rhodes offer us a wonderful treat in a concert featuring music from 17th century Italy, several of Bach's Goldberg Variations, and a composition for scordatura viol and voice brought to life during the pandemic.
Performers
Ann Marie Morgan, viola da gamba and voice
Harumi Rhodes , violin
To learn more about a performer, please click on her name above.
You can view and download a copy of the program and notes by clicking on that link.
Program
Celeste Giglio – Fabrizio Caroso (1526/31 – 1605)
Sinfonia for treble and bass instruments – Alessandro Stradella (1643 – 1682)
Tutti senza titolo
Allegro
Dialogue
Gigue
Dialogue
Allegro
Meditation on the Mandorla for scordatura viol and voice – Ann Marie Morgan (1960 – )
From The Goldberg Variations (BWV 998) – Johann Sebastian Bach (1685 – 1750)
Opening Aria
Variation 27 Canone alla nona
Variation 25 adagio
Variation 7 al tempo di Giga
Sonata prima a Soprano solo – Dario Castello (1602 – 1631)
Allegro, Presto, Allegro, Adagio, Allegro, Allegro, Adagio
Click below to look at performances from our previous seasons