Here are highlights from our most recent season
May 6, 2022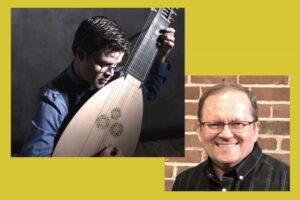 KEITH BARNHART and SCOTT SAARI
Plucked from the Renaissance"
"… the lute (which is the noblest instrument of them all)" – Aggazzari, 1607
The Renaissance was a golden age for the lute throughout the Western world. During this time the instrument experienced a dramatic change including playing technique, number of strings, and increased status of the instrument in society. It was played by royalty and nobility as well as the peasantry. Stylized dances, intabulated sacred works, preludes, fantasies, and variations over a ground are just some of the many wonderful forms of music found throughout the passing years of change. This program presents music from diverse lute composers, music sweetly plucked from this vibrant variety of lute expressions.
You can view and download a copy of the program and notes by clicking on that link.
Program
Tocatta a dui Liuti – Alessandro Piccinini (1566 – c.1638)
Twenty Ways Upon the Bells – Thomas Robinson (c. 1560 – c.1610)
The Queen's Goodnight – Robinson
Robin – Anonymous (16th century)
Ballo detto il Conte Orlando – Simone Molinaro (1565 – 1636)
Fantasia V – Franscesco da Milano (1497 – 1543)
Lachrimae Pavan – John Dowland (c. 1563 – 1626)
Ave Verum Corpus – William Byrd (c. 1530 – 1623)
Regina Caeli – Francisco Guerrero (1528 – 1599), arr. Ron Adrico
Part 2 of Credo of Missa Regretz – Cristóbal de Morales (1500 – 1553), arr. Enriquez de Valdarrabando (c. 1500 – after 1557)
Recercar – Marco dall'Aquila (1480 – after 1538)
Fantasia – Jean Paul Paladin (fl. 1540-1560)
La Vecchia Pavan – John Johnson (c. 1545 – c. 1594)
La Vecchia Galliard – Johnson
The Spanish Pavan – Alfonso Ferrabosco (1575 – 1628)
Passamezzo Galliard – Johnson
April 8, 2022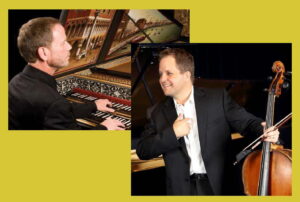 FRANK NOWELL and BEN CLINE
Three Sonatas for
Viola da Gamba and Harpsichord
J.S. Bach composed three sonatas for the bass viola da gamba and concertante harpsichord. Together, the sonatas provide a virtuosic kaleidoscope – revealing Bach's mastery of the trio-sonata genre and the exquisite sound created by these two instruments together. This program provides a wonderful opportunity to hear these masterworks in an intimate setting, with informal spoken commentary about the three contrasting sonatas.

Benjamin Cline, viola da gamba
Frank Nowell, harpsichord
Program
Sonata No. 1 in G Major for Viola da Gamba and Harpsichord, BWV 1027 –
Johann Sebastian Bach (1685 – 1750)
Adagio
Allegro ma non tanto
Andante
Allegro moderato
Sonata No. 3 in G Minor for Viola da Gamba and Harpsichord, BWV 1029 – J.S. Bach
Vivace
Adagio
Allegro
Sonata No. 2 in D Major for Viola da Gamba and Harpsichord, BWV 1028 – J.S. Bach
Adagio
Allegro
Andante
Allegro

September 24, 2021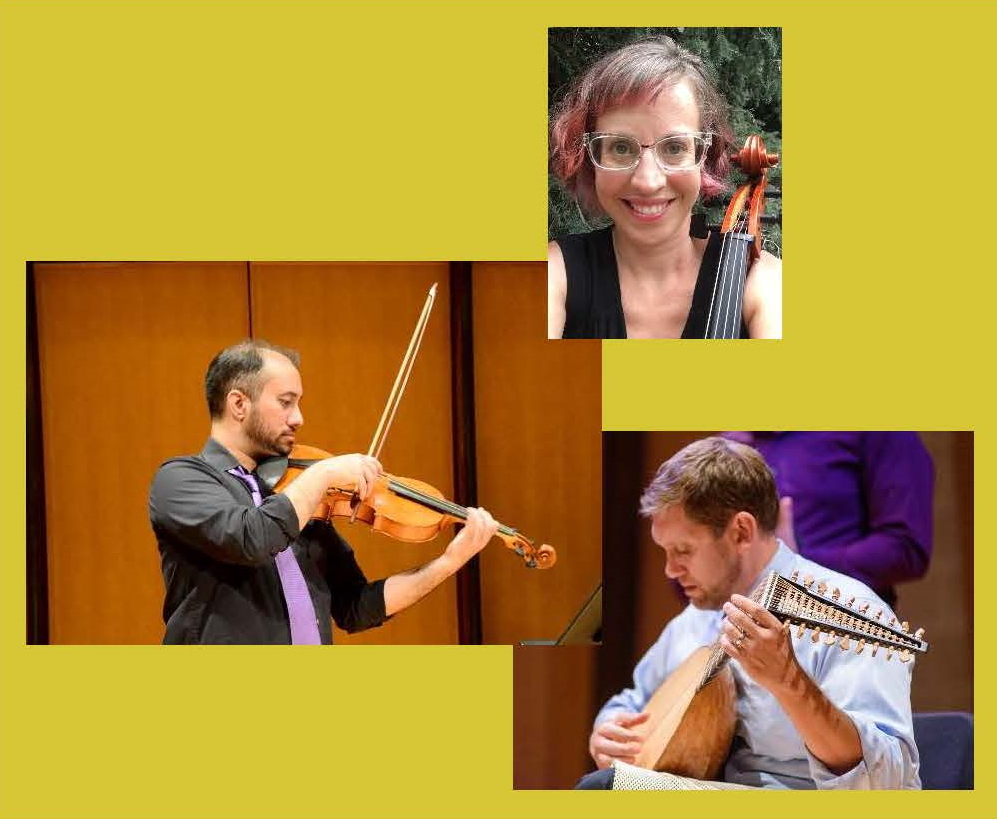 VIJAY CHALASANI
with members of Sinfonia Spirituosa
Other Voices
This is a rare opportunity to hear music from voices often unheard in Early Music concerts: the viola as a soloist, and women composers. Violist Vijay Chalasani, professor at the University of Northern Colorado and founding member of Sinfonia Spirituosa, brings us this special program that takes the viola (the favored instrument of J.S. Bach, W.A. Mozart, and many others) into the spotlight. His program highlighting the viola will feature music by familiar composers such as J.S. Bach, J.J. Quantz, and H.I.F. Biber, as well as music by Isabella Leonarda and Beatrice Mattei, two women composers historically excluded from the musical canon. An Early-Music inspired contemporary work by Reena Esmail completes the program. Esmail is a Los Angeles based composer who, like Chalasani, has South Asian heritage and whose music making meets at the frontiers of Eastern cultural influence and Western musical training. We hope you will join us for this stunning premier concert of our Tenth Season!
Please click here to see a printable program for this concert.
Performers
Vijay Chalasani, viola
Sarah Biber, viola da gamba
Peter Schimpf, lute
Program
Prelude and Fugue from Suite No. 5 in C minor (BWV 1011, c. 1720) – J.S. Bach (1685-1750)
Adagio from On Playing the Flute (1752) – Johann Joachim Quantz (1697-1773)
Sonata No. 10 from The Sorrowful Mysteries (c. 1676) – Heinrich Ignaz Franz von Biber (1644-1704)
Præludium
Aria with Variations
Varsha वषा (Rain) (2019/2021) – Reena Esmail (1983- )
Sonata Duodecima a violino solo e organo (Op. 16, 1693) – Isabella Leonarda (1620-1704)
Sonata for Viola and Continuo (1740) – Beatrice Mattei (early 18th century)
Allegro
Grave
Allegro Brillante assai
Click below to look at performances from our previous seasons