September 9, 2022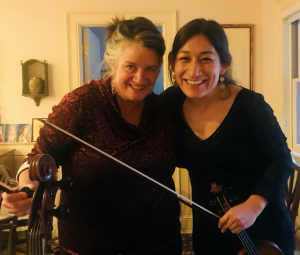 ANN MARIE MORGAN and HARUMI RHODES
"Interlude"
We begin our eleventh season with an opportunity to hear a concert we needed to postpone during the pandemic. Ann Marie Morgan and Harumi Rhodes offer us a wonderful treat in a concert featuring music from 17th century Italy, several of Bach's Goldberg Variations, and a composition for scordatura viol and voice brought to life during the pandemic.
Performers
Ann Marie Morgan, viola da gamba and voice
Harumi Rhodes , violin

Program
Celeste Giglio – Fabrizio Caroso (1526/31 – 1605)
Sinfonia for treble and bass instruments – Alessandro Stradella (1643 – 1682)
Tutti senza titolo
Allegro
Dialogue
Gigue
Dialogue
Allegro
Meditation on the Mandorla for scordatura viol and voice – Ann Marie Morgan (1960 – )
From The Goldberg Variations (BWV 998) – Johann Sebastian Bach (1685 – 1750)
Opening Aria
Variation 27 Canone alla nona
Variation 25 adagio
Variation 7 al tempo di Giga
Sonata prima a Soprano solo – Dario Castello (1602 – 1631)
Allegro, Presto, Allegro, Adagio, Allegro, Allegro, Adagio
September 23, 2022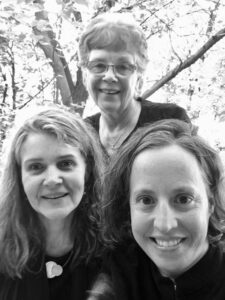 SEVERAL FRIENDS


Linda Lunbeck, Elena Mathys, and Sarah Biber



"Fairest Isle"
Several Friends – Sarah Biber, Linda Lunbeck, and Elena Mathys – perform Henry Purcell's famous aria, "Fairest Isle," written for the semi-opera King Arthur, which recounts the battles between the Britons and the Saxons. The song is a celebration of the Britons, their homeland, and their victory over the Saxons, beginning, "Fairest Isle, all isles excelling…." In this program, Several Friends celebrates composers of Baroque England: Matthew Locke, Thomas Lupo, Henry Purcell, Andrew Parcham, Tobias Hume, and G.F. Händel, spanning the Elizabethan era through the tumult and splendor of the Restoration
Program
"Fairest Isle," from King Arthur – Henry Purcell (1659-1695)
Suite No. 8 in D Minor, from For Severall Friends – Matthew Locke (1621/22-1677)
Pavan
Ayre
Courante
Sarabande
Pavan
Sonata No. 5 in B-flat Major HWV 377 (1725) – George Frideric Handel (1685-1759)
(Allegro)
Adagio
Allegro
Love's Farewell, from Captain Humes Musicall Humors (1605) – Tobias Hume (1569-1645)
Ground in C Minor, ZD 221, from Cambridge MS Mus 653 – Purcell (possibly William Croft 1678-1727)
Fantasia a 3 [D Minor] for 3 Bass Viols – Thomas Lupo (the elder) (1571-1628)
Solo [G Major], from 40 Airs Angloise & Trois Sonates – Andrew Parcham (flourished c. 1700)
Poco Allegro
Adagio
Allegro – Adagio – Presto – Adagio – Spicato – Largo – Allegro

Sonata No. 1 in G Minor HWV 360 (1725-26) – Handel
Larghetto
Andante
Adagio
October 21, 2022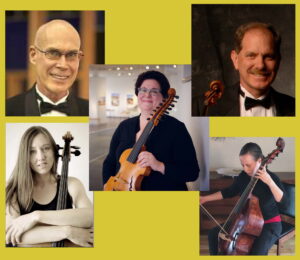 COLORADO CHAMBER PLAYERS


Barbara Hamilton, Paul Primus, Sarah Biber, Sarah Graf, and Karl Reque



"Twilight Zone"
Colorado Chamber Players return to live performance at Happy Hour Chamber Concerts with a wonderful Halloween treat! A delightfully haunted evening awaits, with strange and supernatural music of the Baroque era, by Marin Marais, Anthony Holborne, Henry Purcell, from the Gottweig Archive, and Giuseppe Tartini. Actor Chris Kendall will read short poems about the supernatural by Emily Dickinson, Robert Herrick, Moya Cannon, and William Shakespeare.
The Performers
Barbara Hamilton, Viola d'amore, Baroque violin
Paul Primus, Baroque violin and Harpsichord
Sarah Biber, Viola da gamba
Sarah Graf, Viola da gamba
Karl Reque, Baroque viola, Viola da gamba
Program
The Night Watch, mixed consort – Antony Holborne (1545-1602)
Suite #19 from the Gottweig archive, Viola d'amore and continuo – probably by Heinrich Biber (1644-1704)

Four part Fantasia in E Minor for broken consort – Henry Purcell (1659-1695)

Tableau de l'Opération de la Taille ("Description of a Bladder Surgery") – Marin Marais (1656-1728)

The Funeralls, mixed consort – Holborne

Devil's Trill sonata (1713), arr. for violin and ensemble – Giuseppe Tartini (1692-1770)
February 10, 2023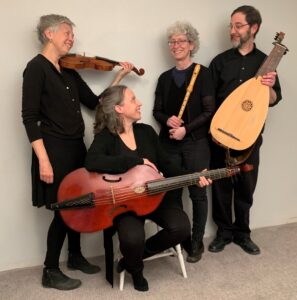 SÉMPLICE


Carla Sciaky, Ben Cohen, Miriam Rosenblum, and Sarah Biber

"A Love Affair"
A greeting from Sémplice: "In honor of the upcoming Valentine's Day holiday, please join us as we celebrate love! From the yearning for love that is elusive to the pain of a languishing love; from a sacred prayer of loving devotion to a wordless aria of love, these Renaissance and Baroque songs of John Dowland, Abraham Casseres, Firminus Caron, Nicola Matteis, Claude de Sermisy and more, celebrate the broad sweep of the amorous. And because we always play music that we as musicians have fallen in love with, the rest of this concert's repertoire is a musical offering of love, selections by Johann Sebastian Bach that stir our hearts. We hope they do the same for you!"
The Performers
Carla Sciaky, violin,viola da gamba, guitar, and voice
Ben Cohen, lute and keyboard
Miriam Rosenblum, recorders and clarinet
Sarah Biber, viola da gamba
Program
"Come Again, Sweet Love Doth Now Invite" (1597) – John Dowland (c. 1563-1626)

Aria Amorosa (1685) – Nicola Matteis (fl. c. 1650-after 1713)
Sonata of 3 parts, #1 (1683) – Henry Purcell (1659-1695)
"Amesiah" (c. 1730) – Abraham Casseres (fl. 1718-1740)
Trio Sonata #3 in D minor for Organ, BWV 527 (c. 1730) – J.S. Bach (1685 – 1750)
Adagio e dolce
Vivace
"Content Desir" – Thomas Crecquillon (1505-1557)
"C'est Temps Perdue D'être en Amour" (15th century) – Firminus Caron (fl. 1460–1475)

"Mon Cueur Gist Tousjours en Langueur" (1538) – Claudin de Sermisy (c. 1490-1562)
"Content Desir" – de Sermisy
"O Haupt voll Blut und Wunden" (after Hans Leo Hassler, 1729) – J.S. Bach
…followed by a final surprise love song….
April 21, 2023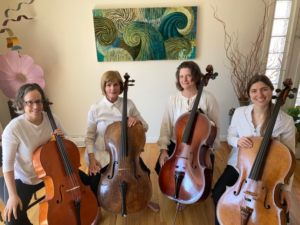 BRAVO CELLO
Carole Whitney, Sarah Biber, Heidi Mausbach, and Erin Patterson

"Baroque, Bass Clef, and the Bottom Line"
Bravo Cello brings us music that showcases the versatility of Baroque music and the violoncello. This eclectic program treats us to solos, duos, trios, and quartets played on this sonorous string instrument – a real April treat!
Program
Sonata in D Minor – Joseph Bodin de Boismortier (1689-1755)
Presto
Adagio
Allegro
Duo II, op. 4 –Tomasso Giordani (c. 1730-1806)
Moderato
Allegro tamborino
Pieces – Louis Couperin (1626-1661), arr. Bissinger
LaVillageoise
Les Baricades Misterieuses
Allemande
Trio Sonata for Three – Arcangelo Corelli (1653-1713), arr. Espinoza
Grave
Allegro
Vivace
Allegro
Both Alike (duo) – Michael East (ca. 1580-1648)
Sonata op. 8, no. 12 (duo) – Willem de Fesch (1687-1761)
Largo
Vivace
Three Airs for Four Celli – Georg Philipp Telemann (1681-1767), arr. Bissinger
Vivace
Andante
Allegro spirituoso

May 12, 2023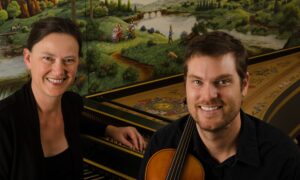 AN EVENING WITH JUBAL FULKS AND LORNA PETERS

"The Spirit of Improvisation"
The adventurous and dynamic duo Corde à vide—violinist Jubal Fulks and harpsichordist Lorna Peters—will present "The Spirit of Improvisation," a program of sonatas, chaconnes and preludes featuring the music of Corelli, Purcell, Bertali, Couperin and Biber. Their concert repertoire, which spans over a century of Baroque music, exemplifies the spontaneous, improvisatory character of this period, and will showcase the startling, cosmopolitan harmonic language of the 17th century, the rich complexity of the German baroque, the exhilarating virtuosity and dramatic flair of the Italian writing, and the sumptuous textures unique to the French style. HHCC Board member Ron Roschke joins them for a conversation exploring the artistry of improvisation.

Program
Prelude in E minor for solo harpsichord – Johann Caspar Ferdinand Fischer
(c. 1656-1746)
Sonata for Violin and Continuo in E minor, Op. 5, No. 8 – Arcangelo Corelli (1653-1713)
Preludio-Largo
Allemanda-Allegro
Sarabanda-Largo
Giga-Allegro
Unmeasured Prelude in G minor for solo harpsichord – Jean-Henri d'Anglebert
(1629-1691)
Passacaglia in G minor for Solo Violin – Heinrich Ignaz Franz von Biber (1644-1706)
Music for a While – Henry Purcell (1659-1695)
Unmeasured Prelude in C major for solo harpsichord – Louis Couperin (1626-1661)
Chaconne in C major for Violin and Continuo – Antonio Bertali (1605-1669)
June 9, 2023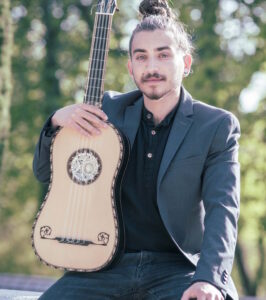 JON WASSERMAN

"Amores Rojos" (Red Loves)
Jon Wasserman introduces us to the lyrical and musical world of the 16th and 17th century Hispanic diaspora, highlighting works for the vihuela and baroque guitar. The music comes from 16th century Iberia and 17th century Spain, Peru, Mexico, and Chile and includes virtuosic fantasies (fantasias), dances (danzas), variations (diferencias), interspersed with renaissance villancicos and intabulations of vocal music as well as tonos humanos, a genre of accompanied song from the baroque. The first half of the program features music from the renaissance performed on the vihuela, and the second half from the baroque performed on the baroque guitar.
Program
Vihuela
Fantasía 10 del quarto tono – Luis de Narváez (fl.1526 – 1549)
Con qué la lavaré – Diego Pisador (1509/10? – after 1557), based upon music by Juan Vázquez (1500-1560)
Fantasía 12 del tercero y quarto tono – Luis Milán (c. 1500 – c. 1561)
Canción del Emperador, Mille regres – Narváez, based upon music by Josquin de Prez (c. 1500 – c. 1561)
Fantasía 11 del primer y segundo tono – Milán
Villancico 4 quien amores ten – Milán
Si la noche haze escura – Pisador, based upon music by Francisco Guerrero (1528-1599)
Baroque Guitar

Cumbées – Santiago de Murcia (1673-1739)
Entre dos alamos verdes – anon.
Aquella sierra nevada – José Marin (ca. 1619 – 1699)
Marizapalos – Murcia
Ojos pues me desdeñáis – Marin
Jacara – Murcia
Yo se que no ha de ganar – anon.