September 25, 2020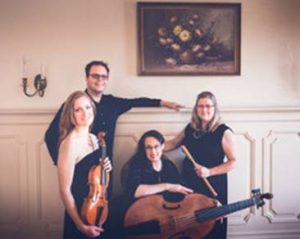 PARISH HOUSE BAROQUE
Baroque Sojourns

This concert invites us into a delightful journey through baroque treasures from familiar composers and, perhaps, some new musical friends.
Parish House Baroque
Elisa Wicks, baroque violin
Jennifer Carpenter, recorders
Pamela Chaddon, baroque cello
Eric Wicks, harpsichord
Program
Folias echo para mi Señora Doña Tarolilla de Carallenos (1650) – Andrea Falconieri (1585 – 1656)
Sonate, correnti et arie, Op. 4: Sonata No. 26, "La Prosperina"- Marco Uccellini (1603/1610 – 1680)

Violin Sonata in A major, Op.5 No.9 – Arcangelo Corelli (1653 – 1713)
Preludio. Largo
Giga. Allegro
Adagio
Tempo di Gavotta. Allegro
Trio Sonata in C major, QV 2:Anh.3 – Johann Joachim Quantz (1697 – 1773)
Affettuoso
Alla breve
Larghetto
Vivace
Trio Sonata for treble recorder, violin and continuo in D minor, TWV42:d10 – Pierre Prowo (1697 – 1757), also attributed to Georg Philipp Telemann (1681 – 1767)
Allegro
Adagio
Allegro
Presto
October 23, 2020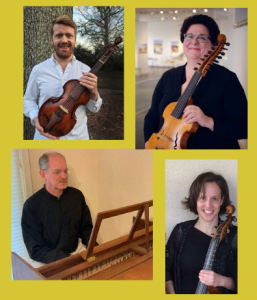 COLORADO CHAMBER PLAYERS
Beguiling Enchantment

Colorado Chamber Players return to Happy Hour with a program featuring music played on the beguiling viola d'amore. The concert is preceded by a wonderful, short pre-concert lecture to introduce you to this amazing instrument. The composers' lives span from the sixteenth to nineteenth century and demonstrate the enduring power of this instrument to evoke deep human resonance. Sarah Biber and Paul Primus bring wonderful artistry for the continuo, and Sarah's solo by Tobias Hume is stunning.
Colorado Chamber Players
Barbara Hamilton and Daniel Urbanowicz , violas d'amore
Sarah Biber , viola da gamba and baroque cello
Paul Primus , harpsichord
Program
Partita in A major for viola d'amore and continuo – Christian Pezold (1677-1733)
Intrada
Allemande
Courante
Sarabande
Menuet I
Aria
Gavott
Bourée
Rondeau
Menuet II
Gigue
Galanterie #21, solo viola d'amore – Josef Fuchs (late 18th – early 19th centuries)
Tablature solo Viola da Gamba: Love's Farewell – Tobias Hume (1569 – 1645)
Ah, que l'amore , solo viola d'amore – Louis-Toussaint Milandre (c 1756 – c 1776)
Overture for 2 Violas d'amore and continuo – Wilhelm Ganspekch (1691 – 1770)
Overture-Presto-Passepied
Gavotte
Menuet
Bourée
Hornpipe
Gigue
Chaconne

December 4, 2020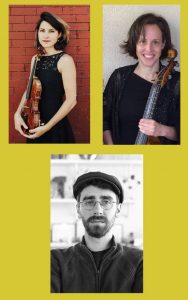 ROCKY MOUNTAIN CONSORT
Perspectives of Antiquity

What's new? What's old? It all depends…. At one time, all Early Music was "contemporary music," and within the Baroque universe, some earlier composers influenced those who came after them. Rocky Mountain Consort delights our ears and our imaginations, inviting us to discover the wonderful energy and evolution of the unfolding Early Music project. It's an exploration of Perspectives of Antiquity, and a reminder that beautiful music continues to charm us, no matter how old it may be.
Rocky Mountain Consort
Brune Macary – baroque violin
Sarah Biber – viola da gamba
Wesley Leffingwell – harpsichord

Program
Sonnerie de Saint Geneviève du Mont de Paris – Marin Marais (1656 – 1728)
Suite in C compiled from Piece de Clavecin – Louis Couperin (1626 – 1661)
Prelude
Le Moutier, Allemande de Mr. de Chambonnières
Double du Moutier par Mr. Couperin
Passacaille
Pièces de clavecin qui peuvent se jouer sur le violon No. 1 in D Minor – Élizabeth-Claude Jacquet de Le Guerre (1665 – 1729)
No marking
Presto
Aria
Presto
Fantasie pour la basse de violle – Georg Philipp Telemann (1681 – 1767)
Fantasia, FbWV 206 – Johann Jakob Froberger (1616 – 1667)
Pièce de clavecin en concert No. 4 in B-flat Major – Jean-Philippe Rameau (1683 – 1764)
La Pantomime
L'Indiscrète
La Rameau
February 19, 2021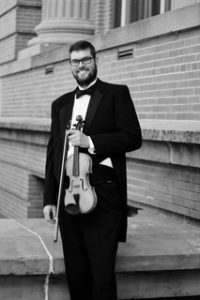 JUBAL FULKS
J.S. Bach Three Violin Sonatas
Jubal Fulks presents three spectacular solo violin sonatas by J.S. Bach (BWV 1001, 1003, and 1005). Each sonata stands as a distinctive pillar of the violin repertoire, but all three share a common sonata structure featuring improvisation, fugue, a stunning third slow movement, and fiery finale. For three hundred years, these gorgeous masterpieces have defined the art and capacity of the violin, and they will continue to do so for generations to come.
Program
Violin Sonata No. 1 in G minor, BWV 1001 – Johann Sebastian Bach (1685 – 1750)
Adagio
Fuga
Siciliano
Presto
Violin Sonata No. 2 in A minor, BWV 1003 – J.S. Bach
Grave
Fuga
Andante
Allegro
Violin Sonata No. 3 in C major, BWV 1005 – J.S. Bach
Adagio
Fuga
Largo
Allegro assai
March 12, 2021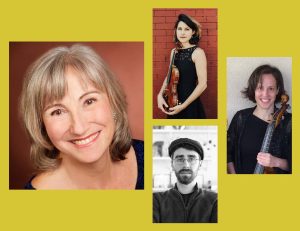 CADMUS
From Darkness to Light
Cadmus takes us on a vocal and instrumental odyssey from despair to joy, lament to peace. These baroque will bring a sparkle to your evening and woo the sun toward springtime.
Cadmus


Amanda Balestrieri , soprano


Brune Macary , baroque violin
Sarah Biber , viola da gamba and baroque cello


Wesley Leffingwell , bentside spinet and chamber organ
Program
– Lament, Despair & Outrage –
"Ad Dominum, cum tribularer, clamavi" (In my trouble I cried to the Lord)
Fuga en .4. con el tiple for organ – Antonio de Cabezón (1510-1566)
Five-voice setting – Hans Leo Haßler (1564-1612)
Sonata in G Minor (violin), op. 364a – George Frideric Handel (1685–1759)
I Larghetto
II Allegro
Two songs – Franz Joseph Haydn (1732-1809)
"The Maid's Complaint "
"Raving Winds"
(from A Selection of Original Scots Songs, editor William Napier, ca.1740-1812)
– Reflection & Resolve –
"Die ihr aus dunklen Grüften den eitlen Mammon grabt" (You who dig for meaningless treasures in the dark chasms of the earth) – Handel
Sonata in G Minor (viola da gamba), op. 364b – Handel
III Adagio
IV Allegro
– Beauty –
"In den angenehmen Büschen" (In the beautiful greenery) – Handel
Prelude in B-flat Major (harpsichord), BWV 866 – Johann Sebastian Bach (1685-1750)
– Peace –
"By the stream so cool and clear" – Haydn
(from A Selection of Original Scots Songs, editor William Napier)
"Süße Stille, sanfte Quelle" (Sweet silence, gentle source of peaceful serenity) – Handel
– Joy –
"Flammende Rose, Zierde der Erden" (Flaming rose, ornament of the earth) – Handel
April 30, 2021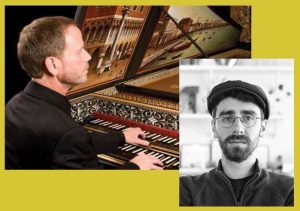 NOWELL AND LEFFINGWELL

Cembali Gioiosi
Duo harpsichordists Wesley Leffingwell and Frank Nowell team up for a program of rare gems highlighting the rich and distinctive sound of two harpsichords. A Baroque panorama spanning two centuries of music, with selections by Gabrieli, Buxtehude, Picchi, LeRoux, Pachelbel, Mattheson, and Schuster. Frank and Wesley are calling their program "Cembali Gioiosi" (Happy Harpsichords) – a fitting and festive title for Happy Hour Concerts finale and a celebration of springtime!
Program
Canzon Primi Toni a 8 – Giovanni Gabrieli (1547-1612)
Ciacona in E Minor – Dietrich Buxtehude (1637-1707)
Ballo ditto il Picchi (1619) – Giovanni Picchi (1571-1643)
Suite in D Minor for Two Harpsichords – Gaspard LeRoux (c.1680-1707)
Prelude
Allemande la Vauvert
Courante
Sarabande
Menuet
Passepied
Sitio (1992) – Serge Arcuri (b. 1959)
Aria Tertia from Hexachordum Apollinis – Johann Pachelbel (1653-1706)
Sonata a Due Cembali – Johann Mattheson (1681-1764)
Variazioni per Due Cembali – Joseph Schuster (1748-1812)