October 12, 2018
SOLIS
Motets and Madrigals
from the Renaissance Era
Music for Five Voices (Mostly)
Unique in the Denver metropolitan region, Solis is a vocal ensemble consisting of five male voices focusing on music of the Renaissance and modern period. The singers bring a joy of music to their audiences and have brought both early music and popular tunes to young and old alike. Solis performs in churches, concert venues, and works in collaboration with other arts organizations.
Jonathan Raabe, countertenor
John Boggs, countertenor
Jim Gatch, tenor
Brian du Fresne, baritone and Music Director
Maxwell McKee, bass
Program
Part I
Sicut Cervus – Giovanni Pierluigi da Palestrina (1525-1594)
Lord to Thee I Make My Moan – Thomas Weelkes (1575-1623)
Music by Orazio Vecchi (1550-1605)
Velociter exaudi me
Assumpta est Maria
Alleluia, laudem dicite
Ave Virgo gratiosa
Omnis virtus te decorat
Domine, quando veneris
Part II
Weep, O Mine Eyes – John Bennet (1575-1614)
J'aime la pierre precieuse – Claude le Jeune (1528-1600)
Music by Claudio Monteverdi (1567-1643)
O Mirtillo
Lasciate mi morire
Zefiro torna (6th Book of Madrigals)
October 28, 2018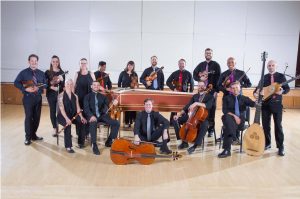 SINFONIA SPIRITUOSA
A Family Connection
Happy Hour Concerts presents this special Sunday performance by Sinfonia Spirituosa, highlighting works by father Johann Sebastian and son Carl Philipp Emanuel Bach, as well as CPE's godfather Georg Philipp Telemann.
Program
Ich will Leiden, BWV 87 – Johann Sebastian Bach (1685 – 1750)
Kommt, eilet, BWV 74 – J. S. Bach
Flute Concerto in D Major, TWV 51:D2 – Georg Philipp Telemann (1681 – 1767)
Duet for Flute and Violin in G Major, H. 598 (Wq 140) – Carl Philipp Emanuel Bach (1714 – 1788)
Trio Sonata in F Major, Wq 163 – C. P. E. Bach
Sinfonia Spirituosa in D Major, TWV 44:1 – Telemann
Musicians
Violin
Jubal Fulks—Greeley, CO
Naomi Rogers-Hefley—Davis, CA
Lindsey Strand-Polyak—Los Angeles, CA
Owen Rooney—Longmont, CO
Viola
Vijay Chalasani—Seattle, WA
Cello
Timothy Stanley—Sacramento, CA
Guitar/Theorbo
Peter Schimpf—Lafayette, CO
Bassoon
David A. Wells—Stockton, CA
Flute
Cathie Apple—Sacramento, CA
Harpsichord
Lorna Peters—Sacramento, CA
Voice (Tenor)
Derek Chester—Thornton, CO
November 9, 2018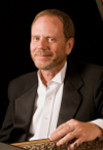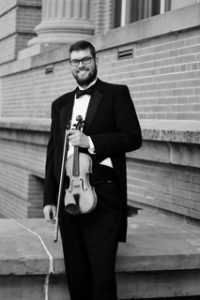 FRANK NOWELL AND JUBAL FULKS
Among Equals
Harpsichordist Frank Nowell (Artistic Director, Baroque Chamber Orchestra of Colorado) and violinist Jubal Fulks (Leader, Sinfonia Spirituosa Sacramento) join forces to present a concert of solo and duo works by JS Bach, Corelli, and Handel. This program explores the breadth of possibilities for each instrument as they exchange musical roles. Ranging from unaccompanied to accompaniment to primary voice, they work together to form a seamless and important combination of sound which exists in compositions from the baroque era to those of today.
Program
Sonata in C-major, op. 5, no 3. – Arcangelo Corelli (1653 – 1713)
Adagio
Allegro
Adagio
Allegro
Allegro
Partita no. 2 in D-minor, BWV 1004 – Johann Sebastian Bach (1685 – 1750)
I. Allemanda
II. Corrente
III. Sarabanda
IV. Giga
Sonata in C-minor for violin and obbligato harpsichord, BWV 1017 – J.S. Bach
I. Siciliano
II. Allegro
III. Adagio
IV. Allegro
Prelude and Fugue in D-major from The Well-Tempered Clavier, BWV 850 – J.S. Bach
Sonata in D-major, op. 1 no. 13, HWV 371 – George Frideric Handel (1685 – 1759)
Affettuoso
Allegro
Larghetto
Allegro
January 18, 2019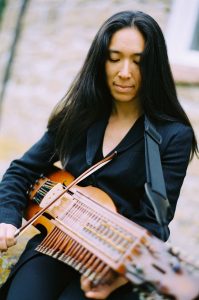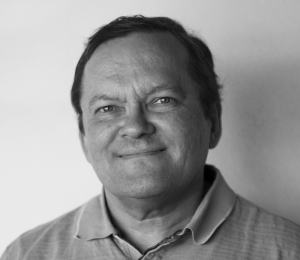 ANN MARIE MORGAN, SANDRA WONG,
AND SCOTT SAARI

A Musical Journey Through Time
Viola da gamba and nyckelharpa are a match made in heaven, sharing and enhancing each other's resonances to create a new "instrument." Sandra and Ann Marie will reach back into the origins of their instruments (15th century), making stops along the way in the Renaissance, Baroque, and Folk genres. New compositions from the 20th/21st centuries will also be featured. Works by Bach take on a whole new life in their care. Please come and enjoy this delightful exploration.
Program
Two-part invention, BWV 782 – Johann Sebastian Bach (1685-1750)
Recercada segonda (1553) – Diego Ortiz (1510-1570)
Aria Ach, wie hungert mein Gemüte from Cantata 180, Schmucke dich, o liebe Seele – J.S. Bach
Medley of traditional Norwegian tunes
Springar
Finnskog Pols
Halling
Two songs
The dark is my delight – Anonymous
Smiths are good fellows – William Wigthorpe (1570 – 1610)
Couplets de folies (Panmure Manuscripts) – Marin Marais (1656-1728)
Jag Langtar – Traditional Swedish, arr. Sandra Wong
Sonata for solo violin No. 2 in A minor, BWV 1003 – J.S. Bach
Andante
Allegro
Remembrance/A Time for Peace – Sandra Wong
February 8, 2019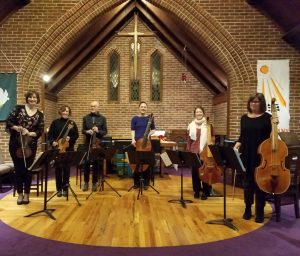 GOLDEN VIOLS
WITH SARAH BIBER AND FRIENDS

Songs and Dances
Golden Viols presents a celebration of the English Renaissance (and the Denver viol community). The concert features 4-, 5-, and 6-part polyphony, as well as the premier of a new composition by Sean Brady – a set of six dances for four gambas.
Featured artists: Sarah Biber, Stacey Brady, Karl Reque, Sandy Miller, Kari Epstein, and Hannah Robbins.
Program
Pavan Passamezzo, in six parts – Peter Phillips (1953- )
Selections from G Major Suite for Solo Cello (played on bass viol) – Johann Sebastian Bach (1685-1750)
Sonata Viola da Gamba Solo Senza Basso – Carl Friedrich Abel (1723-1787)
Adagio
Allegro
Minuet
Songs and Dances – Sean Brady (1960- )
John, come Kisse me Nowe – William Byrd (1538-1623)
Arr. Sean Brady
Musick for Awhile (Z 583), from incidental music for Oedipus, included in Orpheus Britannicus, Book II – Henry Purcell (1659-1695)
Galliard á 6 – William Brade (1560-1630)
Recercada, Primera – Diego Ortiz (1510-1570)
MARCH 8, 2019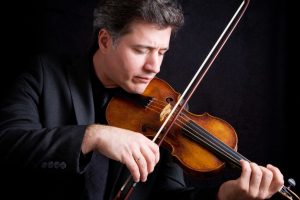 AN EVENING WITH ZACHARY CARRATÍN
Early music performance presents a unique challenge of preparing music that can be up to a half-millennium old, and playing it for twenty-first-century ears. Zachary Carrettín, Artistic Director of Boulder Bach Festival, has said this: "I've spent thirty years thinking about treatises, original instruments, and the score. Questions of source material, instrument set-up and playing technique, and looking at the score over time, are all wonderful ways to open this Pandora's Box known as historically informed performance practice."
We are proud to inaugurate our new An Evening with… experience by welcoming back this incredible artist to HHCC. The evening will feature a wonderful performance, in addition to a conversation with the artist. HHCC Board member Ron Roschke will curate the conversation. The concert will be extended to 75 minutes for this event. Plan on enjoying a remarkable evening of beautiful music and new insights into the intricacies of early music performance!
Program
Passacaglia for Violin Solo (Mystery Sonata) – Heinrich Ignaz Franz Biber (1644-1704)
Concerto in A Minor, 2nd movement, Andante – Johann Sebastian Bach (1685-1750)
Members of the Boulder Bach Festival Baroque Orchestra joining Zachary:
Magee Capsouto, baroque violin
Brune Macary, baroque violin
Renee Hemsing, baroque viola
Joseph Howe, baroque cello
Chaconne, from Partita in D Minor for solo violin (played on period violin and bow)- J.S. Bach