October 21, 2016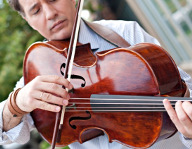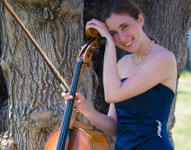 UNVEILING THE CELLO DA SPALLA
Boulder Bach Festival Artistic Director Zachary Carrettin presents his violoncello da spalla in collaboration with BBF artists Greta Parks, violoncello, and Keith Barnhart, baroque guitar. The trio performs Vivaldi and Bach, and Zacahary offers some historical background on shoulder-held basso instruments.
Program
Cello sonata in A Minor (RV 43) – Antonio Vivaldi (1678 – 1741)
Cello sonata in B-flat Major (RV 46) – Vivaldi
First Cello Suite in G Major (BWV 1007) – J.S. Bach (1685 – 1750)
December 16, 2016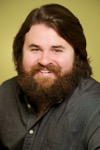 THE RICHNESS OF 16th & 17th C. PLUCKED STRINGS
Keith Barnhart, Nicolò Spera and Patrick Smith will delight your senses with solos, duos and trios spanning from Renaissance England to Seventeenth century Italy and in between. Come hear the delicate sounds of the theorbo, Baroque guitar and lute.
Program
Sonate del Terzo Tuono (from Capricci Armonici Sopra la Chitarra Spagnola) – 1692 – Ludovico Roncalli (fl. late 17th century)
Preludio
Alemanda
Corrente
Gigua
Sarabanda
Passacaglÿ
Sinfonia (from Varii Capricii for Ghittara Spagnuola) – 1643 – Francesco Corbetta (ca. 1615 – 1681)
Two selections from D' Intavolatura di Chitarrone – 1604 – Giovanni Girolamo Kapsberger (1580–1651)
Canario
Toccata II arpeggiata
Three John Johnson lute duets – John Johnson (c. 1545 – 1594)
The Flatt Pavan
The Flatt Galliard
Dump, "Queen's Treble"
Sonata No. 6 (from Sonate d'intavolatura di leuto Op. 1) – 1718 – Giovanni Zamboni (fl. early 18th century, possibly 1664-1721)
Chaconne en G sol re ut, tierce majeur (from Vaudry de Saizenay manuscript) – 1699 – Robert de Viseé (ca. 1655 – 1732/1733)
Trio Sonata in D minor 'Variations on La Folia', RV63 (from Suonate da camera a tre, Op.1) – 1715 – Antonio Lucio Vivaldi (1678 – 1741)
January 27, 2017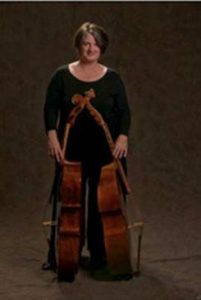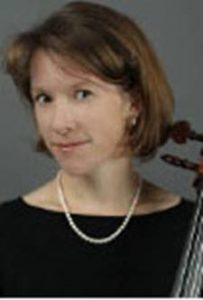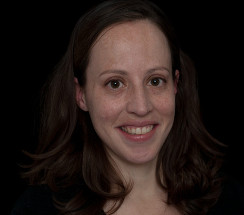 STRING: Á TROIS VIOLES
with guest artist Harumi Rhodes, baroque violin
Three premier gambists of the region are joined by CU violinist Harumi Rhodes in an intimate evening of masterpieces from the 16th & 17th Centuries
Program
Fantasia No. 2 – Orlando Gibbons (1583-1625)
Pièces á Trois Violes – Jean-Baptiste Forqueray (1699-1782)
Allemande
Courante
Sarabande
In Nomine from Pièces de violes, 1er Livre, Marin Marais (1656-1728) – Gibbons
Prelude
Courante
Fantaisie en Echo
Sarabande
Gigue
Gavotte
Fantasia No. 1 – Gibbons
Instruments featured in the performance
6 String Bass Viol by Peter Tourin
From the Karl Reque collection
Baroque Violin by Hopf
From the Morgan Studio collection
Tenor Viol by Edward Maday
(through the generosity of
Jann Benson [1936-2016]
of Ft. Collins)
7 String Bass Viol by Richard Hart
(through the generosity of
Lloyd Smith of Philadelphia)
7 String Bass Viol by François Bodart
Bows by Ralph Ashmeade, Chris English,
and Harry Grabenstein
February 24, 2017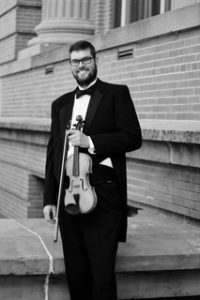 JUBAL FULKS:
VIRTUOSIC BAROQUE VIOLIN PLUS
What do compositions for solo violin from the Baroque era have in common with Steve Reich's 1967 minimalist work for solo violin and looping effects, "Violin Phase?"
Program
Partita no. 3 for solo violin – JS Bach (1685-1750)
Preludio
Loure
Gavotte en rondeaux
Menuet 1 and 2
Bourée
Gigue
J.S. Bach was born in Eisenach, Germany in 1685 and died in Liepzig in 1750. Because of the composer's towering presence and far-reaching musical influence, the Baroque era is widely regarded to have ended with his passing. His Sei Solo, a Violino senza Basso accompagnato were written while Bach served as Kappellmeister to Prince Leopold of Köthen, known to be a Calvinist theologically opposed to a prominent role for music in worship. Consequently, Bach focused almost exclusively on secular music during this time, including the Brandenburg concerti, the solo violin sonatas, cello suites, and sonatas for violin and continuo. The Partita No. 3 is in the bright key of E major, and begins with a perpetual-motion Prelude, followed by the dance movements Loure, Gavotte en Rondeux, a pair of Menuets, Bourrée, and Gigue. Except for the Gavotte, which is repeated in round form, the dances are in two-part form, with the repeats providing ample opportunity for the violinist to invent embellishments.
Passacaglia for solo violin – HIF von Biber (1644-1704)
Heinrich Ignaz Franz von Biber (1644 – 1704) was born in Wartenburg, Bohemia (now part of the Czech Republic). Biber's livelihood in music was assured in 1690 when he successfully petitioned Emperor Leopold I, a member of the Habsburg family, for ennoblement. He was then awarded the station of "Lord High Steward," which earned him a stipend, lodging, bread, wine, and firewood—a fine life indeed! The Passacaglia concludes a set of works otherwise for violin and continuo, portraying the fifteen Mysteries of the Rosary, known as the "Mystery" sonatas. These pieces date from the 1670's, when Biber was in the service of Archbishop Maximilian Gandolph von Khuenberg in Salzburg. A Passacaglia is a type of recurring bass line, much like the underlying progression of J.S. Bach's famous Chaconne. In fact, it is likely that Bach would have been familiar with Biber's work, and that this Passacaglia served to prepare the way for Bach's epoch-defining work. In Biber's version, the bass line is a simple descending four-note phrase, repeated throughout, with variations on top. This Passacaglia is one of the very first examples of solo violin music, and certainly the most virtuosic of the turn of the eighteenth century.
Violin Phase – Steve Reich (b. 1936)
American composer Steve Reich's "Violin Phase" is very much a "passacaglia" for the 21st century. Written in 1967, it is composed mainly of a short, single, repeated, pulsing motive. As the motive repeats, the performer "phases" in between subdivisions of beats, finally landing on the next subdivision precisely, creating a rhythmic version of tension and resolution, and eventually creating a whole new motive. These are contrasted with sections where new material is performed on top of the repeating musical line, in very much the same way that Biber conceived of his "passacaglia" three hundred years prior.
March 31, 2017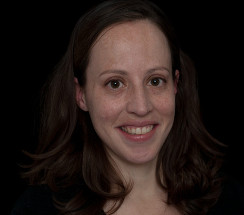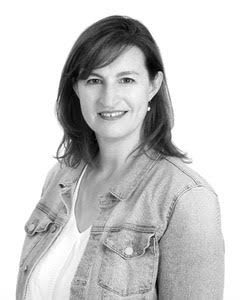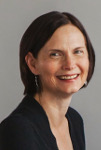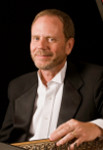 HAPPY BIRTHDAY JSB:
AN EVENING IN THE PALACE OF REASON
Because of the shift from the Julian to the Georgian calendar, scholars now think Bach's actual birthday is March 31 (the date of this Happy Hour!). I've organized a Bach birthday program. I've entitled, the program: Evening in the Palace of Reason. The book by that title by. James R. Gaines describes the interaction that Bach and Frederick the Great had which resulted in the Musical Offering.
Program
Violin Sonate wq 73 in C major – Carl Philipp Emanuel Bach (1714-1788)
Allegro di Molto
Andante
Allegretto
Solo Suite for cello BWV 1008 – Johann Sebastian Bach (1685-1750)
Prelude
Allemande
Courante
Sarabande
Minuets
Gigue
A Sonata sopr'il Soggetto Reale – from the Musical Offering – J. S. Bach
Largo
Allegro
Andante