October 11, 2019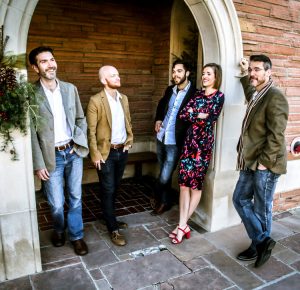 SOLIS
Solis Sings Madrigals, Motets, and Masses

Solis writes, "We are honored to be asked to return to Happy Hour Chamber Concerts to open the 2019-2020 season!" These five voices blend with exquisite a capella artistry. They have put together a concert of sacred and secular madrigals, motets, and masses that show the variety of musical styles that existed in the choral realm of the Renaissance.
Mo Bailey, soprano
John Boggs, alto
Daniel Parks, tenor
Brian du Fresne, baritone
Maxwell McKee, bass
Program
L'amoroso veleno from Book 7 of Madrigals for Five Voices – Pomponio Nenna (1556-1608)
Piccioletta farfalle from Book 8 of Madrigals for Five Voices – Nenna

______________
Music from the Mass
Kyrie from Missa Cinque Vocum (1620) – Mogens Pedersøn (1583-1623)
Gloria from Missa Cinque Vocum – Pedersøn
Credo from Mass for Five Voices – William Byrd (1543-1623)
Sanctus from Missa Cinque Vocum – Pedersøn
Agnus Dei from Mass for Five Voices – Byrd
______________
O Vos Omnes from Tenebrae Responsories for Holy Saturday – Carlo Gesualdo (1566-1613)
O Crux benedica from Book 1 of Sacred Motets for Five Voices – Gesualdo
______________

Cantate Domino from Motecta – Orazio Vecchi (1550-1605)
Erat Jesus – Vecchi

Program notes
A particular highlight of this concert is a presentation of two masses by English composer William Byrd and Danish composer Mogens Pedersøn. We will present the movements of the mass by alternating between the two composers – in this manner, the listener will be able to compare and contrast the compositional style and voice part writing of these composers. All of us in Soils were unfamiliar with Pedersøn's work before one of us happened upon this wonderful mass – we are happy to share it with you! The concert will also feature works by three Italian Renaissance composers: Orazio Vecchi, Pomponio Nenna, and Carlo Gesualdo, all of whom flourished within fifty miles of each other and were born just fifteen years apart, but each had unique styles of writing.
November 1, 2019
ANN MARIE MORGAN AND WILLIAM SIMMS
R & B – The Morgan/Simms Reunion Tour

Ann Marie Morgan – bass and treble violas da gamba, voice
William Simms – theorbo and baroque guitar
Ann Marie Morgan returns to Happy Hour Chamber Concerts with her friend, the talented theorboist William Simms. They present a wonderful journey through Renaissance and Baroque (R&B!) works spanning from Ortiz to Bach, and taking us all the way to Messiaen and Morgan – a "tour" that is sure to delight!
Program
Recercada Primera sobre canto llano – Diego Ortiz (1510-1570)
Partos trocados – Anonymous Sephardic
In Nomine – Ann Marie Morgan (b. 1960)
Louange à l'éternité de Jésus – Movement V from Quartet for the End of Time –
Olivier Messiaen (1908-1992)
Nas Ragan – Anonymous Swedish
2me Suite from Pièces de violes – François Couperin (1668-1733)
Prelude – gravement
La Chemise blanche – tres viste

Höchster, mache deine Güte ferner alle Morgen neu from Jauchzet Gott in allen Landen! (BWV 51) – Johann Sebastian Bach (1685-1750)
Chaconne from La Morangis ou La Plissay – Antoine Forqueray (1671-1745)
November 15, 2019
COLORADO CHAMBER PLAYERS
Flaming Swords
Daniel Urbanowicz, viola d'amore
Barbara Hamilton, viola d'amore
Ann Marie Morgan, viola da gamba
Scott Saari, viola da gamba and lute
Colorado Chamber Players present a fascinating program, featuring Daniel Jalapeño Urbanowicz and Barbara Hamilton, violas d'amore; Ann Marie Morgan, viola da gamba; and Scott Saari, lute and viola da gamba. Join us for a captivating evening, with the rare opportunity to hear the viola d'amore in combination with viola da gamba and lute – a silvery, resonant, and unforgettable experience. Works by Telemann, Ariosti, deRore, and from the Göttweig manuscript.
Program
Trio Sonata, C major, TWC 42:C2, for 2 violas d'amore, and continuo – Georg Philipp Telemann (1681-1767)
Dolce-Allegro-Grave-Vivace

Sonata No. 8 for viola d'amore, lute & gamba in D minor (reconstructed by Thomas Georgi) – Attilio Ariosti (1666-1729)
Largo
Adagio
Tempo di Gavotta
Fantazia no. 2,in G minor, Z.734, arr. for viola d'amore, tenor gamba and bass gamba – Henry Purcell (1659-1695)
Qual' l'e piu grand'o Amore, 2 violas d'amore, lute and gamba– Cipriano deRore (1515-1565)
Anchor che c'ol partire, arr. for two bass viols (diminutions by R. Rogniono) – deRore
Sonata No. 19 for viola d'amore, lute & gamba in A minor – Ariosti
Adagio
Allegro
Adagio
Rondeaux
Folies d'espagne, 2 violas d'amore, lute and gamba, from Suite XIV (Göttweig MS 4806 – c. 1700) – anonymous
January 17, 2020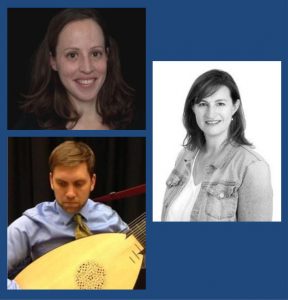 BIBER, BRADY, AND SCHIMPF
Viol Extravaganza
Sarah Biber, viola da gamba
Stacey Brady, violin
Peter Schimpf, archlute
Sarah Biber, Peter Schimpf, and Stacey Brady return to Happy Hour with a delightful "across the channel" program. They will feature music of French and English composers, plus a few "expats" from Germany and Italy who found some work opportunities in London. Here's a perfect way to start a New Year with Early Music!
Program
Diverse bizzarie sopra la vechhia sarabanda o pur ciaccona – Nicola Matteis (1650-1714)
Sonata in D minor – Carl Friedrich Abel (1723-1787)
Prelude
Allegro maestoso
Adagio
Minuet
Solo fantasia for violin, No. 10 in B-flat major (TWV 40:23) – Georg Philipp Telemann (1681-1767)
Presto
Largo
Allegro
Les Voix Humaines , Livre II – Marin Marais (1656-1728)
Suite in C minor – Robert de Visée (c. 1655-1732/1733)
Prelude
Courante
Sarabande
Gigue
Gavotte
Chaconne en trio – Jacques Morel (c 1700-1749)

February 21, 2020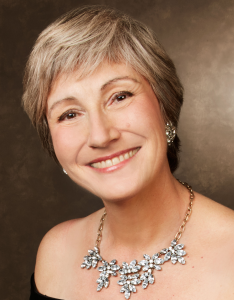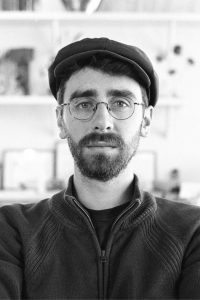 AMANDA BALESTRIERI AND WESLEY LEFFINGWELL
An Evening with Amanda Balestrieri
"The Rhetoric of Song and Why I Love It"
with Wesley Leffingwell, pianoforte
Soprano Amanda Balestrieri delights us with an evening of song and conversation. Amanda joins Happy Hour Board member and conversation curator Ron Roschke to explore what happens as language is transformed into music.
Program
O viridissima virga – Hildegard von Bingen (1098 – 1179)

Minnelied (love song) – Franz Schubert (1797-1828)
Seligkeit (Bliss) – Schubert

Les cloches – Claude Debussy (1862-1918)
Nell – Gabriel Fauré (1845-1924)

Tristes apprêts, pâles flambeaux (from Castor et Pollux)- Jean-Philippe Rameau (1683-1764)

Cupid, the slyest rogue alive – Henry Purcell (1659-1695)

O quam pulchra es – Claudio Monteverdi (1567-1643)
Già il sole dal Gange – Alessandro Scarlatti (1660-1725)