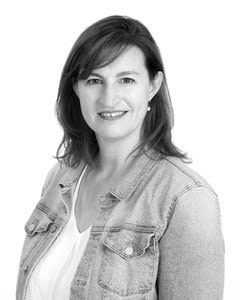 Stacey Brady
enjoys playing both Baroque and Modern Violin. A Colorado native, she has been delighted to
be a part of the growth of Early Music in this beautiful state. Stacey is a dedicated teacher and enjoys her full studio of students ranging from age 3 to 18. A founding member of the highly acclaimed Baroque Chamber Orchestra of Colorado, Stacey also performs with local ensembles such as Siecento and Sphere Ensemble. She is excited to be a part of this great Happy Hour Series in Denver!
Updated 2018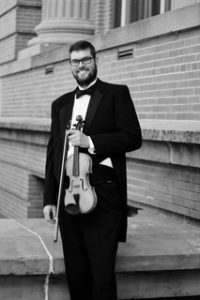 Jubal Fulks
is an award-winning and critically acclaimed artist and teacher who performs repertoire from the Baroque era through the music of today. He has performed as soloist with orchestras across the United States and has been heard on National Public Radio's "Performance Today." His orchestral experience includes Grammy-nominated performances with Philharmonia Baroque Orchestra in the San Francisco Bay Area, and in New York City at the Mostly Mozart Festival at Alice Tully Hall, in the Jazz at Lincoln Center series, and the New York String Orchestra at Carnegie Hall. As a recitalist, he has appeared at numerous summer festivals and concert series in the United States and Asia and has toured extensively in Europe with orchestras and chamber groups. While in the doctoral program at Stony Brook University, he won the prestigious Ackerman Prize for Excellence in Performance and performed the Berg Violin Concerto under the baton of Gunther Schuller. A winner of national honors from the American String Teachers Association and the National Federation of Music Clubs, he has been awarded fellowships with Aspen Music Festival's Contemporary Ensemble and the New York Institute and Festival for Contemporary Music, where he performed with pianist Ursula Oppens and Speculum Musicae. He is an active chamber musician, including national touring with the Colorado Piano Trio and in the baroque duo "Corde à vide" with Sacramento State University harpsichordist Dr. Lorna Peters. Dr. Fulks is excited to join Dr. Peters as violinist and leader of "Sinfonia Spirituosa," a professional baroque chamber orchestra in Sacramento.
Currently Associate Professor of Violin at the University of Northern Colorado, he served previously on the faculty of the University of Alabama and at Luther College in Decorah, Iowa. Dr. Fulks has also taught at the State University of New York-Stony Brook, and conducts master classes at universities throughout the country. During the summer months he is on the faculty of Green Mountain Music Festival in Burlington, Vermont and has been a faculty member at Montecito International Music Festival in California, Lutheran Summer Music Festival in Iowa, and Kinhaven Music School in Weston, Vermont. Dr. Fulks holds Bachelor's and Master's degrees in violin performance from the University of North Carolina School of the Arts where he studied with Kevin Lawrence, and the Doctor of Musical Arts degree from the State University of New York at Stony Brook, where his teacher was Mitchell Stern.
Updated 2018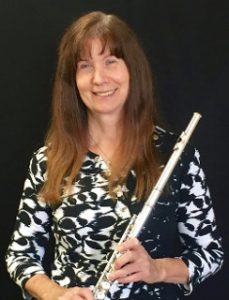 Elizabeth Hicks-Kimmey
performs as principal flutist and soloist with the Jefferson Symphony Orchestra. She has also performed with the Colorado Symphony, Cheyenne Symphony, Denver Chamber Orchestra, Colorado Springs Orchestra, Opera Colorado and the Colorado Ballet Orchestra.
Ms. Hicks-Kimmey has a performance degree from the Manhattan School of Music and while in New York she had occasion to perform as an orchestral, solo, and chamber musician at Carnegie Hall, Avery Fisher Hall, and Alice Tully Hall, and had appeared in many concert series throughout New York City.
In 2016, Ms. Hicks-Kimmey was invited to perform the Ccile Chaminade Concertino for Flute with the Fremont Symphony Orchestra in Lander, WY. While there, she also presented a master class for Lander High School flutists. She is also published with an article in Flute Talk Magazine and The Instrumentalist.
In addition to performing Liz was awarded Artist-in-Residence at Rocky Mountain National park where Mary White, to be performed tonight, was composed.
To relax, Liz loves hiking with her husband Kevin, cooking, reading, and gardening.
Updated 2017
Don Hilsberg
has performed as a professional harpist in the Rocky Mountain region for over thirty-five years. He has enjoyed a multi-faceted career as an orchestral musician with numerous symphonic, ballet, opera, and musical theater organizations. In recital he has appeared as soloist, as well as chamber musician, premiering numerous works along the Front Range.
In 1999 he accepted an invitation to perform in the opening concerto concert at the World Harp Congress in Prague, Czech Republic. In recording he has appeared on the Delos and Gothic labels with the Orchestra of St. John in the Wilderness.
Don is a distinguished music educator retiring after thirty years, during which he was honored with inclusion in Whos Who in American Education, as well as with a Denver Teachers Award. He is a contributing writer to the professional publication Harp Column.
Updated 2017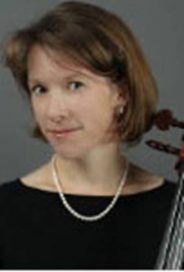 Sandra Miller
Is originally from the Boston area. She currently lives in Golden, Colorado and is an active performer on the viola da gamba as well as baroque and modern cello. She enjoys performing regularly with the Baroque Chamber Orchestra of Colorado and with Seicento Baroque Ensemble and has collaborated with nationally and internationally recognized early music specialists including Mimi Mitchell, Charlotte Mattax Moersch, Ann Marie Morgan, Stephen Stubbs, Frank Nowell, and Cynthia Miller Freivogel, among others. Ms. Miller holds a Bachelor of Arts in Music from Wesleyan University, where she studied both western and non-western musical traditions, and a Masters in Music from the University of Colorado at Boulder, where she studied with Judith Glyde and the Takács String Quartet. Her career in early music began over a decade ago at the Baroque Performance Institute at Oberlin College. She continued her viol studies in Santiago, Chile where she spent two years before returning to the United States to focus primarily on the study and performance of music from the baroque era. She currently has a private cello studio and coaches chamber music with the West Denver Suzuki Strings program. She lives with her husband and two daughters and their family cat, Sirus, who enjoys sleeping in empty instrument cases.
Updated 2018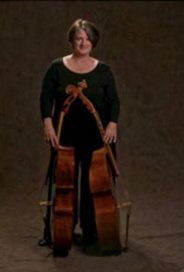 Ann Marie Morgan
a violist da gamba and Baroque cellist, is a frequent guest with major orchestras and choral societies featured as viola da gamba soloist with the Philadelphia and the Minnesota Orchestras, at long-standing Bach Festivals in Oregon and Bethlehem as well as with the Cleveland Orchestra at Blossom and in Europe at the Prague Spring Festival. She has been on the faculties of the Peabody Institute of the Johns Hopkins University and the Interlochen Center for the Arts. She is principal cellist and viola da gamba soloist with the Boulder Bach Festival and teaches courses at the Rocky Mountain Center for Musical Arts and at Rocky Ridge Music Center.
Updated 2018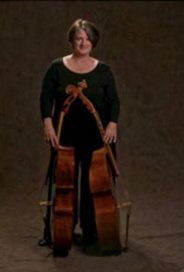 Ann Marie Morgan
is praised by the Baltimore Sun for her "beguiling musicality." She is a frequent guest artist on viola da gamba and has performed in the Bach St. John and St. Matthew Passions with the Cleveland, Philadelphia, and Minnesota Orchestras. She has been a guest at numerous Bach Festivals including Oregon, Bethlehem, and Boulder, as well as internationally in Germany, the Czech Republic, and Turkey. In recent seasons she performed with The Cleveland Orchestra as viola da gamba soloist in Bach's St. John Passion and in the Bach St. Matthew Passion with the Colorado and Quad Cities Symphonies. Often a collaborator with tenor Nicholas Phan, she is the violist da gamba on his album "A Painted Tale", performing in Carnegie Hall, in Istanbul, and this past season with members of Apollo's Fire: The Cleveland Baroque Orchestra, and at the Chautauqua Institute (NY). The Colorado Chamber Players and Colorado Bach Ensemble welcome her this season, performing on cello, cello piccolo and viol.
Also an accomplished baroque cellist she is featured on flutist Joshua Smith's recording of the Bach continuo sonatas and chamber sonata from the Musical Offering. Her solo viola da gamba CD, "Among Rosebuds," and her ensemble's recording "The Soulful Bach and Telemann" (both on Centaur) continue to receive excellent reviews and are aired on classical music stations across the country. H & B Recordings Direct states that her sound on the bass viol is "straight from heaven."
To see a list of her recordings, watch YouTube videos, and stay informed of upcoming events and news, please visit her website, stringperformer.com.
Updated 2018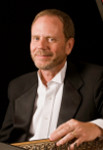 Frank Nowell
founded the Baroque Chamber Orchestra of Colorado in 2005, and the ensemble quickly garnered acclaim for its "artistic vision, authenticity, and devotion" under his leadership as Artistic Director and harpsichordist. Founding the orchestra fulfilled a long-held dream to expand the Denver arts scene to include a professional orchestra devoted to historically inspired performances of music from the 17th and 18th centuries. An active performer as a Baroque keyboard specialist and "early music entrepreneur," Mr. Nowell was previously co-founder of the early music group Diverse Passions and founder of the Denver Handel Festival. He is a frequent guest artist, collaborator, and soloist, including recent or upcoming appearances with the Cottonwood Music Festival, American Guild of Organists Regional Convention, Colorado Symphony Orchestra, Off the Hook Chamber Music Festival, Pro Musica Colorado, Denver Early Music Consort, and St. Martin's Chamber Choir. As an organist he earned Associate certification (AAGO) from the American Guild of Organists and has recorded on the Cygnus label. Mr. Nowell serves on the Board of Directors of Early Music America and as chair of EMA's Education committee, and takes joy in introducing people of all ages and backgrounds to Baroque music, as well as collaborating with a wide range of artists and art forms to bring new dimensions to this music. He received the Master of Music degree from the University of Colorado, and a Bachelor of Arts degree with honors from Princeton University.
Updated 2018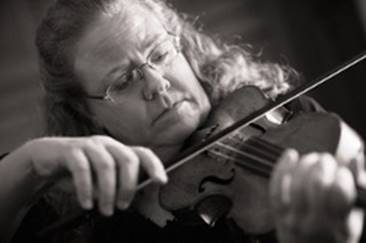 Allison Edberg Nyquist
has been praised by The Chicago Sun Times as "impeccable, with unerring intonation and an austere beauty". She has performed throughout North America, collaborating with many of the top baroque ensembles, including Chatham Baroque, Ensemble Galilei, Apollo's Fire, and the Baroque Chamber Orchestra of Colorado. She is frequently featured at the Bloomington Early Music Festival and the Indianapolis Early Music Festival. Her discography includes recordings for the Eclectra, Delos, and Centaur CD labels.
Highly regarded as a teacher, Ms. Nyquist is presently teaching baroque violin at Vanderbilt's Blair School of Music. She has served on the faculties of Indiana State University, DePauw University, Ohio State, the Interlochen Arts Camp and Lawrence University. She is currently the concertmaster of the Indianapolis Baroque Orchestra and a member of Ensemble Voltaire, Olde Friends, Baroque Band, the Washington Bach Consort, and the Vivaldi Project. She has recently married and moved to the suburbs of Chicago.
Updated 2018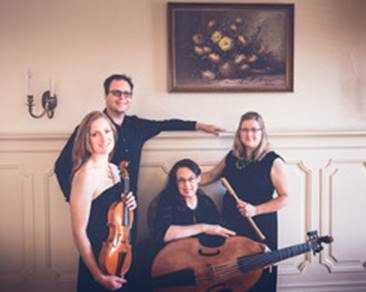 Parish House Baroque
is Colorado Springs' Early Music Ensemble, specializes in the brilliance and diversity of music from the 16th, 17th, and 18th centuries through historically informed performances. Drawing on varied sources of performance practice in interpretation and ornamentation of the renaissance and baroque, Parish House Baroque strives to expand the community of people who love Early Music and to foster the next generation of audiences for Early Music through performances, outreach, and dialogue. With a core formation of baroque violin, recorders, baroque cello, viola da gamba and harpsichord, Parish House Baroque has developed a reputation for highly expressive performances and compelling programming. Parish House Baroque is currently ensemble-in-residence at First Lutheran Church, Colorado Springs, Colorado.
Elisa Wicks, Artistic Director
Jennifer Carpenter
Eric Wicks
Pam Chaddon
Updated 2018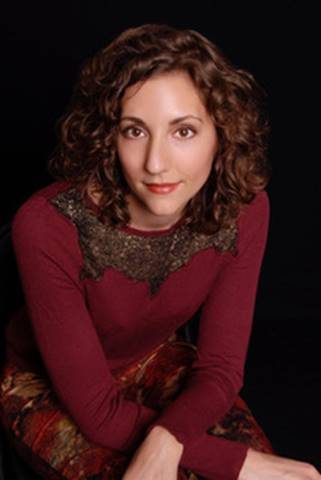 Kathryn Radakovich
is noted as a "very expressive soprano" (Opus Colorado). She maintains an active and varied singing career. Kathryn's versatility, stemming from her extensive background in classical and jazz vocal techniques, makes her a "vocal chameleon," adept at singing repertoire spanning from the Renaissance to the American Songbook.
Since arriving in Denver in 2013, Kathryn has become a mainstay in Colorado's myriad music scenes. As a classical and baroque musician, Kathryn appears regularly with renowned ensembles including St. Martin's Chamber Choir, Colorado Bach Ensemble, The Santa Fe Desert Chorale, Baroque Chamber Orchestra of Colorado, and Denver Early Music Consort. As a jazz singer, Kathryn can be heard in Denver's top jazz venues; Nocturne, Dazzle, and La Cour. Kathryn also remains committed to exploring the art song tradition, frequently offering duo recitals with pianist Amanda Williams and guitarist Russ Callison. Performing sacred music and oratorio, Kathryn sings as cantor for the Catholic Diocese of Denver, during High Holy Days at Temple Emanuel, and as a staff singer at the Cathedral of St. John in the Wilderness, where she performed as a soloist in Handel's Messiah this past December. Upcoming performances include two world premieres at The Dairy Center for Perofmring Arts: "Flowers of Evil" by Annie Booth, and "Songs of Rumi" by John Gunther.
A highly sought after freelance singer in Los Angeles and Orange County, Kathryn performed in the Honda Center, Disney Hall, Hollywood Bowl, and Staples Center with touring artists Andrea Bocelli, Andy Williams, and John Williams, as well as with the Pacific Chorale and De Angelis Vocal Ensemble. During her graduate studies at California State University, Fullerton, Kathryn studied with GRAMMY® winner Bill Cunliffe and sang regularly with CSUF's premier big band.
Kathryn earned dual undergraduate degrees at the University of Idaho in voice and music theory & history. While studying art song and opera, she honed her jazz abilities by regularly performing at the Lionel Hampton International Jazz Festival with world-renowned musicians Bobby McFerrin, Jeff Hamilton, Benny Green, and Claudio Roditi.
In addition to her active performing career, Kathryn maintains a thriving voice and piano studio as well as teaching at Metropolitan State University in their jazz and early music departments, coaching and encouraging a love of music in students of all ages.
Updated 2018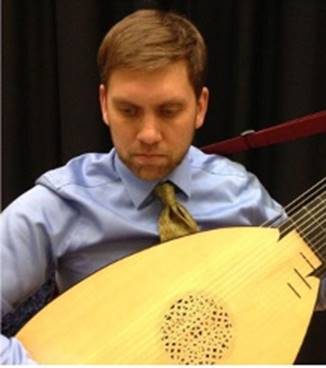 Peter Schimpf
is an associate professor and Chair of the Department of Music at Metropolitan State University of Denver. He has taught courses in music history, world music, music appreciation, and the history of Rock and Roll, and he is the founder and director of the MSU Denver Early Music Ensemble. He earned a Ph.D. from Indiana University in musicology, and has a BM in performance from California State University Sacramento where he studied guitar and lute with Dr. Richard Savino. As a performer on period instruments, he has performed with the Baroque Chamber Orchestra of Colorado, Colorado Music Festival, Seicento Baroque Ensemble, and the Denver Early Music Consort.
Updated 2018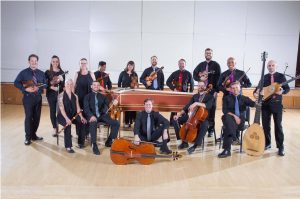 Sinfonia Spirituosa
is an amazing ensemble made up of university professors, recording artists, soloists, conductors, chamber musicians and symphony players. They are active as teachers and performers on both period and modern instruments, and many are directors of their own ensembles specializing in early music, romantic music, new music, jazz, and Gypsy swing.
Updated 2018
Solis
is unique in the Denver metropolitan region – a vocal ensemble consisting of five male voices focusing on music of the Renaissance and modern period. The singers bring a joy of music to their audiences and have brought both early music and popular tunes to young and old alike. Solis performs in churches, concert venues, and works in collaboration with other arts organizations.
The group was established in 2016 with the name Uomini Vecchi. Solis continues to use a vocal lineup of soprano, alto, tenor, baritone and bass. This unique set of five male voices lends itself to music of the Renaissance.
Solis is working toward becoming a repertory ensemble for performances of new music written specifically for them. New pieces by up-and-coming young composers as well as published and well-established composers will be added to the groups repertoire. The singers are currently undertaking a recording project of the entire vocal motets of the Renaissance composer Orazio Vecchi, most of which have never been performed, let alone recorded.as well as modern arrangements of popular tunes. The extreme vocal range of the ensemble makes listening to their recordings and attending their concerts fascinating opportunities for lovers of music from all times and places.
Jonathan Raabe, countertenor
John Boggs, countertenor
Jim Gatch, tenor
Brian du Fresne, baritone and Music Director
Maxwell McKee, bass
Updated 2018