ABOUT TICKETS
Because the pandemic continues to evolve with new variants, policies will reflect current health guidelines and best practices. Ticket holders will be notified by email regarding any changes to policies if and when they might they occur.
IN-PERSON ATTENDANCE
Pre-concert sales for in-person attendance will be sold online from this website for $20. Tickets will be sold at the door for $22 (cash or check only) until maximum capacity has been reach; then tickets sales will close.

The in-person audience for a concert will be limited to 80 persons maximum. Once that maximum has been reached, all in-person ticket sales will be closed. All online ticket sales must be purchased no later than noon of the day of the concert.

Persons under eighteen years of age may attend for free, but they will also need a ticket; if you would like a youth ticket, please follow the directions that will be included in your ticket confirmation email and respond within 24 hours after receiving it. Youth tickets will be counted and applied to the in-house maximum attendance.
CURRENT COVID POLICIES
There will be open seating for the concert.

We have been monitoring the policies of Epiphany Lutheran Church, the CDC, local health authorities, and the best practices of major performing arts organizations in our area to provide safety during the pandemic. Happy Hour Concerts and Epiphany Lutheran Church no longer require signed waivers for in-person concert attendance. We ask ticket holders to be either fully vaccinated or to have received a negative COVID test result within 24 hours before the concert. We also ask in-person attendees to come to the concert free of COVID symptoms. Use of facial masks is at the discretion of the attendee. There will be no checking of vaccine status at the door. If a ticket holder has developed COVID symptoms after purchasing a ticket, the cost of the ticket will be refunded upon request.

There will be snack and beverage service at concerts.

By purchasing a ticket, you indicate

you understand that there are continuing personal risks for COVID infection by attending a concert, and

you have accepted those risks as part of your ticket purchase and attendance at the concert.

COVID policies may be modified as pandemic conditions change; they can also be modified at the request of our performers.
ONLINE LIVESTREAMING
This concert will also be livestreamed on our Happy Hour YouTube channel. The stream will be available at the time of the concert. A recording of the concert will be available for a month following the concert, using the same access link.

Cost of access to the livestream is $10 per viewing site. To purchase a livestream ticket, select <Online access> in the drop-down menu and then click the <Buy Now> button. Only one ticket is needed per viewing site. Online tickets must be purchased before noon the day of the concert.
BUY YOUR TICKETS HERE
By purchasing a ticket you agree to let us send you emails via MailChimp, so that we can share important concert notices and news about future offerings.
To purchase a ticket, please scroll down to the concert you wish to attend and use the drop-down menu to select whether you want to purchase <In-person> or <Streaming access> tickets. Click the <Buy Now> button, and then select the number of tickets you want and your method of payment. Please remember you only need to purchase one streaming access per viewing site. Within 24 hours after making your purchase you should receive a ticket confirmation email from Happy Hour Chamber Concerts. Please click here to contact us if you have problems or questions.

A HAPPY HOUR ENCORE
Friday, June 9
6 pm MDT

JON WASSERMAN

"Amores Rojos"
(Red Loves)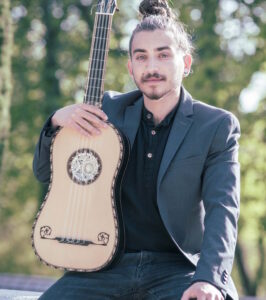 Advanced sales for this concert are now closed. In-person tickets will be available at the door beginning at 5:30 pm, for $22 cash or check.

THE SEASON AT A GLANCE
Friday, September 9
6:00 pm MDT

ANN MARIE MORGAN and HARUMI RHODES

"Interlude"
Friday, September 23
6:00 pm MDT

SEVERAL FRIENDS


Linda Lunbeck, Elena Mathys, and Sarah Biber



"Fairest Isle"
Friday, October 21
6:00 pm MST

COLORADO CHAMBER PLAYERS
Barbara Hamilton, Paul Primus,
Sarah Biber, Sarah Graf,
and Karl Reque

"Twilight Zone"
Friday, February 10, 2023
6:00 pm MST

S

É

MPLIC

E
Carla Sciaky, Ben Cohen, Sarah Biber, and Miriam Rosenblum

"A Love Affair"

Friday, April 21
6:00 pm MDT

BRAVO CELLO
Carole Whitney, Sarah Biber,
Heidi Mausbach, and Erin Patterson

"Baroque, Bass Clef,
and the Bottom Line"


Friday, May 12
6:00 pm MDT

AN EVENING WITH
JUBAL FULKS
AND LORNA PETERS

"The Spirit of Improvisation"
Friday, June 9
6:00 pm MDT


JON WASSERMAN
"Amores Rojos"
(Red Loves)