Start the weekend right with great music in a relaxed setting
Our next concert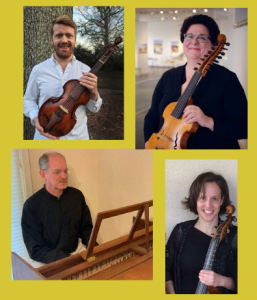 FRIDAY, OCTOBER 23, 6:00 PM
COLORADO CHAMBER PLAYERS
Beguiling Enchantment
Colorado Chamber Players returns to Happy Hour with a program featuring beguiling music from less well known baroque composers. These gems offer us an enchanted concert that is sure to bring a smile and brighten an autumnal evening! To learn more about a performer, click on that person's name immediately below. And to purchase tickets, click here.
Performers
Barbara Hamilton and Daniel Urbanowicz, violas d'amore
Sarah Biber, viola da gamba and baroque cello
Paul Primus, harpsichord
Program
Partita in A major for viola d'amore and continuo – Christian Pezold (1677-1733)
Ah, que l'amore , solo viola d'amore – Louis-Toussaint Milandre (c 1756 – c 1776)

Galanterie #21, solo viola d'amore – Franz Götz (1755 – 1815)

Tablature solo Viola da Gamba: Love's Farewell – Tobias Hume (1569 – 1645)

Overture for 2 Violas d'amore and continuo – Wilhelm Ganspekch (1691 – 1770)

And then…
FRIDAY, DECEMBER 4, 2020
6:00 PM



ROCKY MOUNTAIN CONSORT



Perspectives of Antiquity
This program explores some of the changes seen throughout the Baroque period, centered in this case around the French Court and Church. We view Bach as antiquity, just as Bach viewed Byrd as antiquity. The instruments which were so ubiquitous in the courts of 1650 are mostly absent by 1800. Within Early Music, there is so much diversity and evolution which is fascinating to behold. To learn more about a performer, click on that person's name immediately below. Tickets will go on sale around November 4.
Performers
Brune Macary – baroque violin
Sarah Biber – viola da gamba
Wesley Leffingwell – harpsichord
Program
Fantasie pour la basse de violle – Georg Philipp Telemann (1681 -1767)
Fantasia – Orlando Gibbons (1583 – 1625)
Sonate für Clavier und Viola da Gamba – Johann Sebastian Bach (1685 – 1750)
Pièce de clavecin en concert – Jean-Phileppe Rameau (1683 – 1764)
Suite from Piece de Clavecin – Louis Couperin (1626 – 1661)
Sonate pour le viollon et pour le clavecin – Élizabeth-Claude Jacquet de Le Guerre (1665 – 1729)
Sonnerie de Saint Geneviève du Mont de Paris – Marin Marais (1656 – 1728)
The rest of the season…
We are working with other musicians to develop a full season of music. We will post future online concerts as plans develop. Thanks for supporting our mission in Early Music!
Welcome to
Happy Hour
Chamber Concerts
Online
During this time of pandemic we are continuing our mission to bring Early Music artists and appreciative audiences together in an intimate and informal setting. What's different this season is that we are bringing this wonderful music into your home – or wherever else you want to hear it. Happy Hour Chamber Concerts is online this year. When you purchase a ticket, you will receive a link to a pre-recorded concert you can view online. We'll even throw in the wine and snacks! Our artists and board members are sharing a favorite recipe and wine paring you can fix ahead of time to enjoy during the concert! Fifteen minutes after the end of the concert, you are invited to an hour-long video conversation with the musicians and the rest of the audience. You can click here to get a more complete picture of how HHCC Online works, along with some FAQs that will help you maximize your enjoyment of great music.
We know the best way to experience this incredible music is in live performance, but we hope these online concerts will help to create a happy hour or two while we all work to keep each other healthy. Our thanks to our incredible musicians and our wonderful patrons for making this possible!